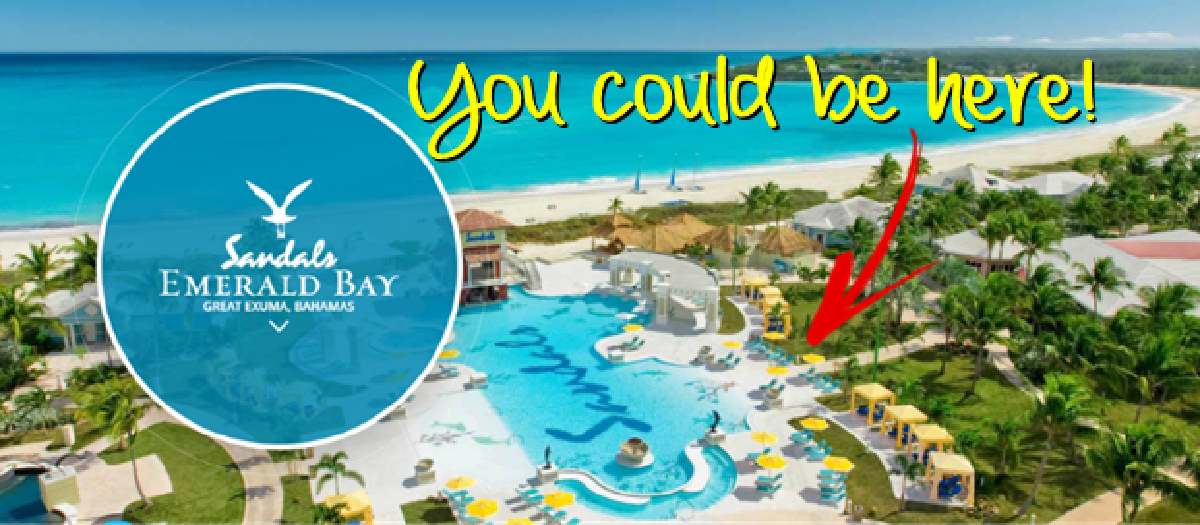 Destination: Bahamas!
by Molly Sumption on
October 1, 2021
Sandals Emerald Bay - Located in the Exotic Bahamian Out Islands
Sandals Emerald Bay, Great Exuma, Bahamas is secluded within 500 tropical acres along a pristine, mile-long beach. Featuring three impressive pools - including a half-acre, zero-entry pool with a dramatic fire pit in the middle - to 11 exceptional restaurants and a world-class spa, this resort is a quiet oasis not to be missed.
Home of the famous 18 hole, 7001 yard Greg Norman Golf Course where Greens Fees are currently included. Placing the first 9 holes through scenic mangroves, Greg Norman took advantage of the landscapes natural barriers. The back 9 offers challenges of a different nature where the sea views create ample distractions from the focus of the game. https://www.sandals.com/golf/bahamas/

---
Contact me for your next Caribbean Vacation "Been There - Got the Tee-shirt!" ~ Molly
---
"During my stay in June, I experienced one of the most fun tours in my career, Swimming with the Pigs! Yes, the friendly pigs swim out to meet the tour boat and be fed carrots by those guests who enter the shallow water. Additionally, I fed the piglets from a milk bottle. We then motored over to feed and hold the endangered Bahamian Rock Iguanas. A personal highlight, I was able to cradle a Sting Ray in my arms!"

---
SANDALS EMERALD BAY
https://www.sandals.com/emerald-bay/

GROUP TRAVEL - Do you have a hobby or special interest such as Golf, Tennis, Pickle Ball, Birding, Gardening, Yoga? Or how about organizing a destination wedding, anniversary celebration, vow renewal or simply vacationing with friends or family? Sandals & Beaches Resorts offer Social Group Programs where it takes only 5 rooms to get the 6th room free! Plus added incentives. Offers vary by resorts and dates.
Contact Molly for details.

Start planning your next vacation today!




Molly Sumption, Travel Advisor

Molly's Caribbean, LLC
Preferred Sandals Agency / Certified Sandals Specialist
molly@mollyscaribbean.com / www.mollyscaribbean.com
Seattle: 206 575-0907 / Portland: 503 715-3107
Business Hours: 9 a.m. to 5 p.m. – Monday through Friday
Voicemail/Email monitored after hours and weekends.
After hours and weekend appointments accepted gladly!
Specialization - I'm dedicated to promoting and experienced in traveling to the Caribbean & Mexican Caribbean.
Simplification - With travel becoming more complex, I simplify the path to vacation planning.
Service - I provide a level of service that simply cannot be found through other channels.
back