Renton Area Nonprofits Unite (RANU)
Working together to make us better. Working together to make Renton better.

Our Mission
We exist to bring together the diverse nonprofits, social organizations, and businesses serving the greater Renton community. Together, we will become more effective through increased collaboration, learning, and sharing of resources.
Our Goals and Objectives
Collaboration: Relationship is key. We will continually gain a better understanding of each other's mission and the people we serve – who is doing what with whom. Strategic partnerships will form across areas of common focus (youth, housing, education, the environment, arts and culture, etc.), as well as with local businesses, churches, and government. This will occur through monthly meetings and planned networking events.

Shared Learning: Marketing, fundraising, board development, volunteer recruitment, and management. These are things that affect us all, so why not learn together? This will be accomplished through training at monthly meetings and planned workshops. Activities are open to staff of all levels, board members, and volunteers.

Shared Resources: We will find ways to put our collective resources to even better use. These resources could include knowledge, time, people, space, technology, and money.
RANU - RENTON MEETINGS
Chair: Sarah McNiesh
Meeting: 4th Wednesday of each month
Time: 9am -10:30am
Location: Rotates among members
---
We are thankful and appreciate Starbucks® for being our 2020 RANU Sponsor!
---
WASHINGTON NONPROFITS

Dear Nonprofit Colleagues,

I'm writing to share some quick updates. Read on for answers to the following questions:
How can a board of directors of a Washington nonprofit corporation hold a legal meeting remotely?
What should we do about fraudulent unemployment claims?
What should we do if our nonprofit is behind in paying rent because of the COVID-19 shutdown?
What is the latest news about PPP loans and loan forgiveness?
Continue reading the announcement here...
RANU March 2020 Meeting
by RANU on
April 2, 2020
Our members of RANU pressed on through our new 'Stay Safe - Stay Home' protocol, and met online via Zoom.
Ginna Hernandez, City of Renton, Census Program Manager showed us a presention on the 2020 Census, and shared information on the importance to our city.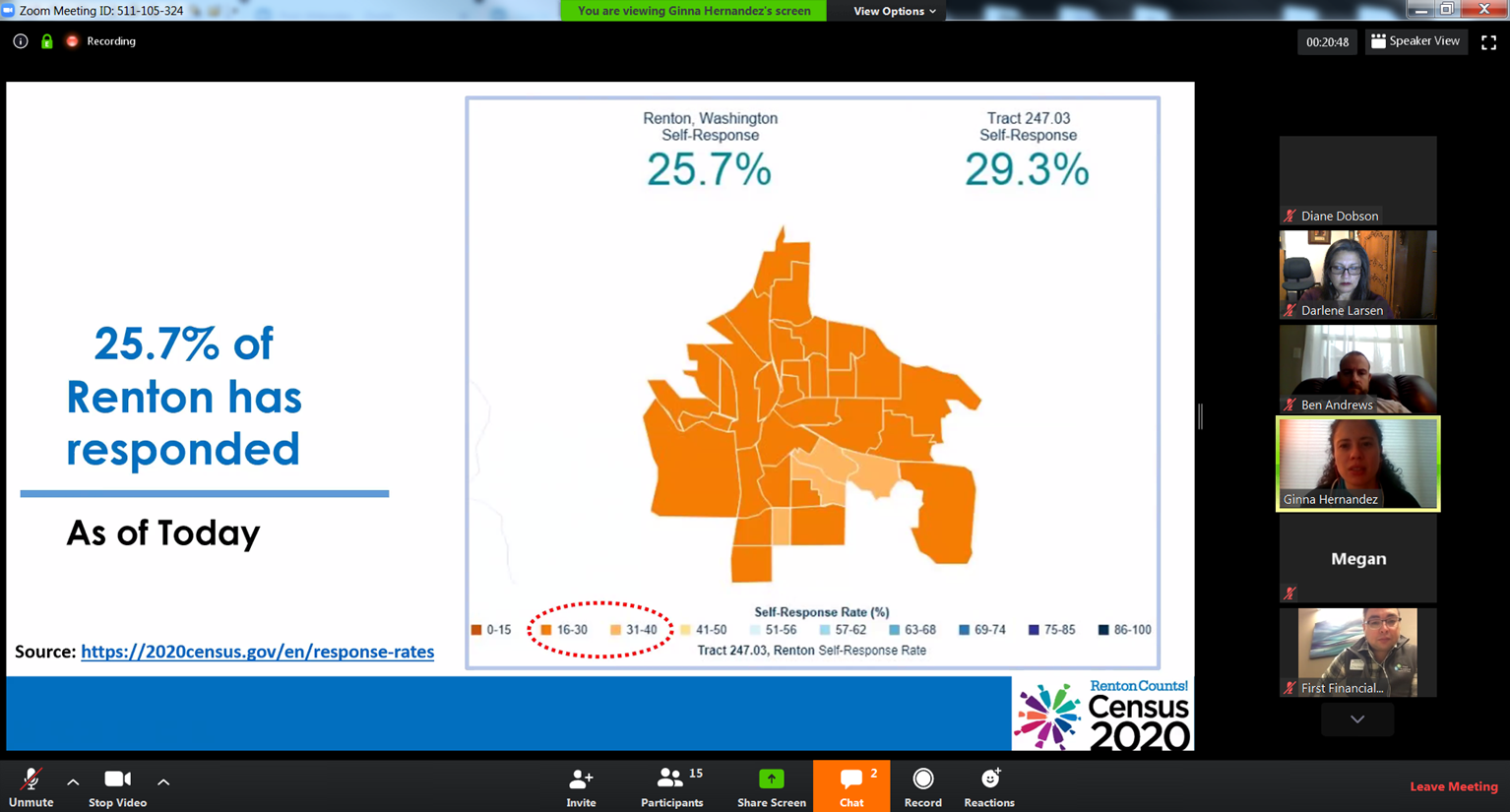 Renton Counts!
The 2020 Census is Vital, Easy and Safe. It's results will have a 10-year impact on Renton, that's why it's important you respond.
Have questions? Our Renton Counts! brochure will have answers.
You can follow Renton's response rate.
Contact Ginna Hernandez,
watch the videos in
5
languages,
read the flyers in
7
languages and the brochures in
6
languages
and see complete details by
CLICKING HERE!
*The 2020 Census will impact federal funding and political representation for the next ten years.
It matters to be counted! The cities of South King County were one of the most undercounted cities in the 2010 Census which meant many of our communities did not receive their fair share of federal funding for programs like Headstart, Medicare/Medicaid, SNAP, WIC and many other programs.
We are thankful and appreciate Starbucks® for being our 2020 RANU Sponsor!
back