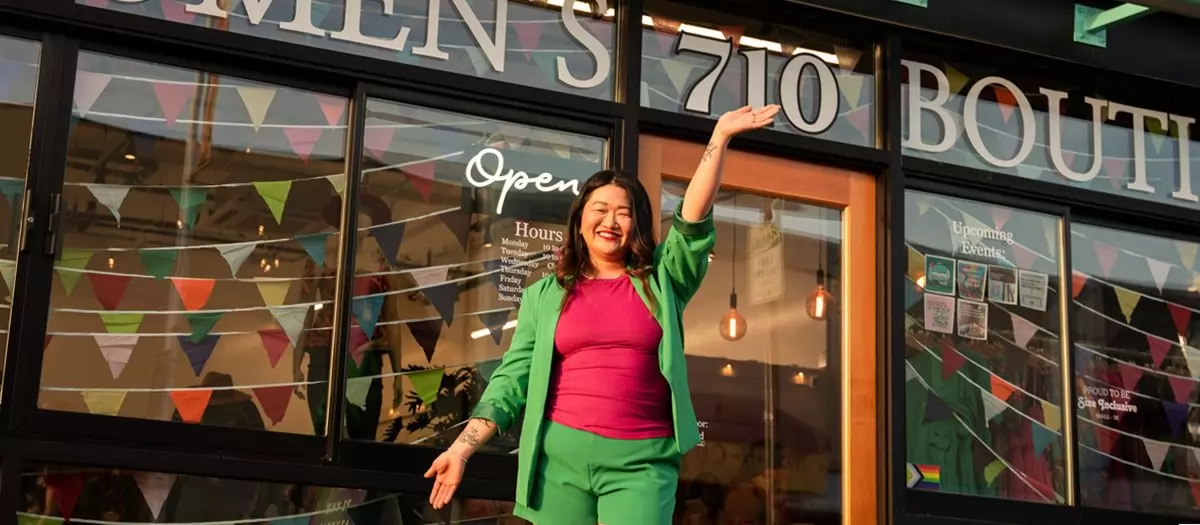 Presenting Emily Brooker: Cultivating a Safe Haven of Authenticity at Esme and Elodie Renton Women's Boutique
by Chamber Staff on
September 1, 2023
Meet Emily Brooker, an inspirational entrepreneur who is redefining the fashion industry through her dedication to creating a safe haven for women at
Esme and Elodie Renton Women's Boutique
. With a profound belief in the power of self-expression and acceptance, Emily has transformed her boutique into a sanctuary where women can embrace their individuality, free from judgment or expectations.
🌺
A Sanctuary of Authenticity:
Emily's journey took a transformative path when she recognized the need for a space where women could truly be themselves. This realization led her to establish Esme and Elodie, a place where women are welcomed with open arms and encouraged to express their uniqueness. Within these walls, authenticity reigns, and every woman is celebrated for who she is.
🎨
Celebrating Individuality:
As the Creative Director, Emily ensures that the boutique's environment and offerings reflect her commitment to celebrating individuality. The carefully curated collections embody a diverse range of styles, catering to various tastes and personalities. From chic minimalism to vibrant bohemian, every woman can find pieces that resonate with her essence.
🌟
A Safe Space to Flourish:
Emily's vision goes beyond fashion; it's about fostering an atmosphere of acceptance and belonging. Through intimate gatherings, discussions, and events, she has transformed Esme and Elodie into a community where women can share their stories, uplift one another, and be unapologetically themselves. The boutique's warm ambiance and supportive staff make it a refuge for women seeking comfort and connection.
📚
Empowering Present and Future Generations:
Beyond her role as a business owner, Emily serves as a beacon of guidance for aspiring female entrepreneurs. She shares her insights on creating an inclusive and empowering environment, inspiring others to cultivate safe spaces that amplify authenticity.
Emily Brooker's impact as the visionary behind Esme and Elodie Renton Women's Boutique is both powerful and heartwarming. Her commitment to providing a safe haven for women to embrace their true selves, regardless of societal pressures, has not only revitalized the fashion industry but has also redefined the concept of empowerment. With her genuine approach and transformative initiatives, Emily continues to inspire women to step into their authenticity and find solace in the haven she has meticulously crafted.
📍
Location:
710 S 3rd Street Renton, Washington
🌟
Role:
Founder and Creative Director
🛍️
Boutique
:
Esme and Elodie Renton Women's Boutique
See Previous Member Spotlights