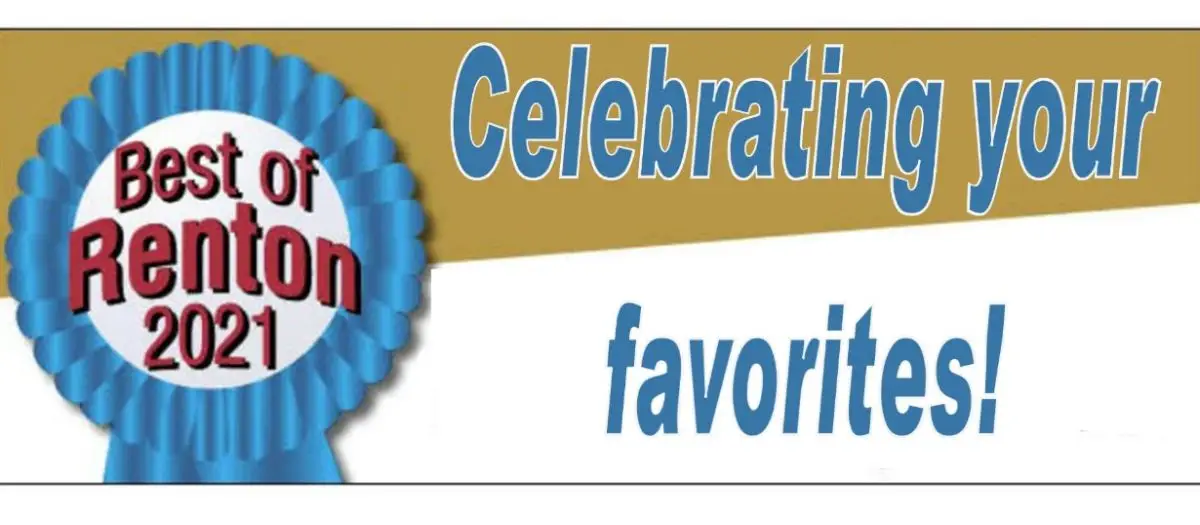 Best of Renton 2021
by Mary Clymer on
February 23, 2021
Best of Renton 2021!
A Virtual Celebration of our Local CommUNITY Leaders
The Renton Report along with The Renton Chamber of Commerce have partnered again to announce the winners of The Best of Renton. You voted last fall and on February 25th from 4pm-5:30pm the winners will be announced on this special virtual event.
This year more than ever it is important to recognize those people and businesses in our community providing you with the best service possible. The people and businesses who make our city unique.

To celebrate the Best Of Winners, The Renton Chamber is hosting an online forum as an opportunity to connect with the finalists and winners.
Many of you took the time to vote, but it came down to a select few. They are hoping you will join in on February 25th to share in their recognition and learn a little bit about the people behind the magic. The ones who make living in Renton so gosh darn great.
Follow this link to register and reserve your spot to join in on the fun.
The Renton Chamber takes pride in rewarding and recognizing those in our community who continuously aspire to help and serve. Excited to congratulate this year's Best Of winners who spend so much of their time caring for others.
It's the businesses that offer the best service, pay attention to details, and have the most helpful and eager employees. It's the people who volunteer their time to help lift those around them by offering the most precious gift of time.
Below is a list of finalists in each category. Want to know who the winner is? Then register for this exciting online event.
Community Services
Best Customer Service
Sparkle Gifts & Whatnots
CD Danza - Aveda Salon & Spa
Pet Pros Renton
Refuel Cafe
Church
St. Anthony Catholic Parish
St. Matthew's Lutheran Church
New Life Church
Highlands Community Church
Elected Officials
Pam Teal
Marcie Palmer
Armondo Pavone
Ed Prince
Non-profit
Goodwill Industries
St. Vincent de Paul
Salvation Army
The Salvation Army Renton Rotary Food Bank
Teacher / School
Ms. Pitts, Dimmitt Middle School
Stephanie Pender, Highlands Elementary School
Michelle Zimmermann, Renton Prep Christian School
All teachers, Dimmitt Middle School
Volunteer
Diane Dobson
Pam Teal
Nicole Melinger
Jeanine Burnley
Health & Fitness
Chiropractor
Dr. Trisha J. Hughes, D.C.
Dr. Keane J Bagby, D.C.
Dr. Scott Petett, D.C.
Dr. Carl Baze, D.C.
Dentist / Denturist
Dr. Scott Babin
Dr. Michael Scholes
Dr. Fred Dahm
4th & Morris Dentistry
Dr. Rick Sodergren
Fitness Center
LA Fitness
Orange Theory Fitness
Planet Fitness
Renton Community Center
Eye Care
Eyes on the Landing
Visionworks the Landing
Dr. Paul Jenson, O.D., Renton Vision Source
Dr. Kosnoski, Kosnoski Eye Care Fairwood Vision Clinic
Health Care Facility
Valley Foot and Ankle
UW/ Valley Medical Clinics
Kaiser Permanente
Pacific Medical Center
Martial Arts
Kim's Tae Kwon Do
Fairwood Martial Arts
Renton Martial Arts Center
Pediatrician
Dr. Monica Richter, M.D. Valley Children's Clinic
Dr. Mary Chu, M.D. Valley Children's Clinic
Dr. Anderson, M.D. Valley Children's Clinic
Dr. Gary German, M.D. Valley Children's Clinic
Physician
Dr. Michele Nelson
Vandita Samavedi, M.D. Valley Medical Center
Dr. Christopher Moore M.D. Swedish
Dr. Constantine
Dr. Howard Miller, REnton Family Practice
Dr. Michelle Despreaux
Spa Services
Create Hair Studio
CD Danza - Aveda Salon & Spa
Spa at the Lake - Renton
Kids
Activites
Henry Moses Aquatic Center
Gene Coulon Memorial Beach Park
Evergreen City Ballet
8 Bit Arcade
Daycare
Bright Horizons
KinderCare Child Day Care Center
Spring Glen Day Care
Rainier Christian Schools
Learning Center
Phoenix Montessori
Cross & Crown Christian Preschool
Highlands Preschool
Family Circle Learning Circle
Pets
Pet Groomer
Junkyard Bones
Soggy Doggy
Poodie's Pet Palace
Fuzzy Friends

Pet Store
Mud Bay
PetSmart
Pet Pros
Junkyard Bones
Sierra Fish & Pet
Veterinary Clinic
Cedar River Animal Hospital
Renton Veterinary Hospital
Animal Health Care of Renton
Blue Pearl Veterinary Hospital

Professional Services
Attorney / Law firm
Malsan Law Firm
Gary Faull
Dan Kellogg
Automotive Care
Bucky's Complete Auto Repair
Mike's Fairwood Auto
Mathewsons Automotive
Iden's Dealer Services
Bank / Credit Union
BECU
Columbia Bank
First Financial Northwest Bank
Bank of American
Banner Bank
US Bank
Barber Shop
Abyssinia Hair & Beauty Salon
Details Barbershop
CD Danza - Aveda Salon & Spa
Linda's Barbershop
Catering
The Red Tea Room Catering
Cedar River Smokehouse
Renton Technical College
Rain City Catering
Financial Advisor
Steven D. Tolonen - Edward Jones
JB Tax & Finance
Marilyn Milne - Edward Jones
Nina Boss - Edward Jones
Hair Salon
Abyssinia Hair & Beauty Salon
CD Danza - Aveda Salon & Spa
Create Hair Salon
1630 Hair Artisans
Insurance Agent
Kent Bradford
Jeremy Olson
HUB Insurance
Jim Sullivan
Pemco
Nail Salon
Jack & Jill Nails Boutique
Bluebell Nails
#1 Nail Pro Salon & Spa
C K Nail
Fairwood Nails
Real Estate
The Howard & McKay Group
Team Lisa Lam - COMPASS Real Estate
Dea Church - John L. Scott
Rosie Rourke - Keller Williams
Ryan Runge - American Classic Homes
Senior Living Community
Chateau Valley Center
Merrill Gardens at Renton Centre
Solstice Senior Living at Renton
The Lakeshore
Staffing / Employment
Smart Talent
Professional Minority Staffing
LINK Staffing

Restaurants
Bakery
Chuck's Donuts
Common Ground Coffee & Cupcakes
Top Pot Doughnuts
Renton Technical College

BBQ
Whistle Stop Ale House
L&L Haaiian Barbecue
Cedar River Smokehouse
Clyd's Southern Wood Fired Barbeque
Breakfast
Tommy's Cafe
Plum Delicious Family REstaurant
Doofers Bar & Grill
Jay Berry's Cafe
Chinese Cuisine
The Wild Garlic
Zen Khee
Golden Peacock
Little Peking
Coffee Shop
Liberty Cafe
Boon Boona Coffee
Bigfoot Java
Common Ground Coffee & Cupcakes
Family Restaurants
Plum Delicious Family Restaurant
Whistle Stop Ale House & Family Dining
Berliner Pub
Red Robin
Fine Dining
Melrose Grill
WildFin American Grill
Marianna Ristorante
Water's Table at Hyatt Regency Lake Washington
Hamburgers
Doofer's Bar & Grill
Burger Addict
Five Guys Burgers and Fries
Indian Cuisine
Pabla Indian Cuisine
Spice King
Himalayan Cafe
Naan-N-Curry
Italian Cuisine
Angelo's Pizza & Pasta House
Dock & Drink at Hyatt Regency Lake Washington
Vince's Italian Restaurant & Pizzeria
Marianna Ristorante
Japanese Cuisine
Sushi Cafe
Izakaya Kaiten Sushi and Yakitori Bar
Sushi Today
New Zen Japanese Restaurant
Lunch
Big Island Poke
Royal Orchid Restaurant
Cedar River Smokehouse
El Kiosko
Doofer's Bar & Grill
Mexican Cuisine
Santa Fe Mexican Grill
Taqueria El Kiosko
La Fuente Family Mexican Restaurant
Torero's Family Mexican Restaurant
Brewery
Bickersons Brewhouse
Four Generals Brewing
Pizza
Smoking Monkey Pizza
The Rock Wood Fired Pizza
Shakey's Fairwood
Angelo's Pizza & Pasta
Tavern / Bar
The Local 907
Apogee Pub & Restaurant
Doofer's Bar & Grill
Berliner Pub
Thai Cuisine
Sing Tong Thai Cuisine
Five Sisters Thai Cuisine
Ocha Thai Kitchen & Bar
Royal Orchid Restaurant

Vietnamese Cuisine
Pho 801
The Lemongrass
Blossom Vegetarian
Renton Bistro
Winery / Wine Shop
Red House Beer & Wine Shoppe
Vino at the Landing
Peyrassol Cafe at Southport
The Wine Alle
Shopping
Antiques & Treasures
Buddy's Cannabis
Sparkle Gifts & Whatnots
Antiques 4U
St. Charles Place Antiques & Restorations
Appliance Store
King & Bunnys Appliances
IKEA
Lowe's Home Improvement

Cannabis
The Evergreen Market - South
The Evergreen Market - North
Buddy's Cannabis
Emerald Haze
Flower Shop
Renton Flower Shop
Cugini Florists & Fine Gifts
Urban Sprouts
Alicia's Wonderland
Tattoo Parlor
Whine Rhino Collective
Idolize Tattoo
Handsome Devil Ink
Sacred Soul Tattoo
Gift Shop
Cugini Florists & Fine Gifts
Uwajimaya
4 Sisters Holistic Remedies
Sparkle Gifts & Whatnots
CD Danza - Aveda Salon & Spa
Grocery / Convenience Store
Top of the Hill Quality Produce & Meats
Uwajimaya
Fred Meyer
Hardware
Dunn Lumber
Ace Hardware
Lowes Home Improvement
McLendon Hardware
Jewelry Store
Renton Jewelry Exchange
Fred Meyer
Tune in to see interviews with your favorites on February 25th from 4pm-5:30pm and find out who is the Best of Renton.

back