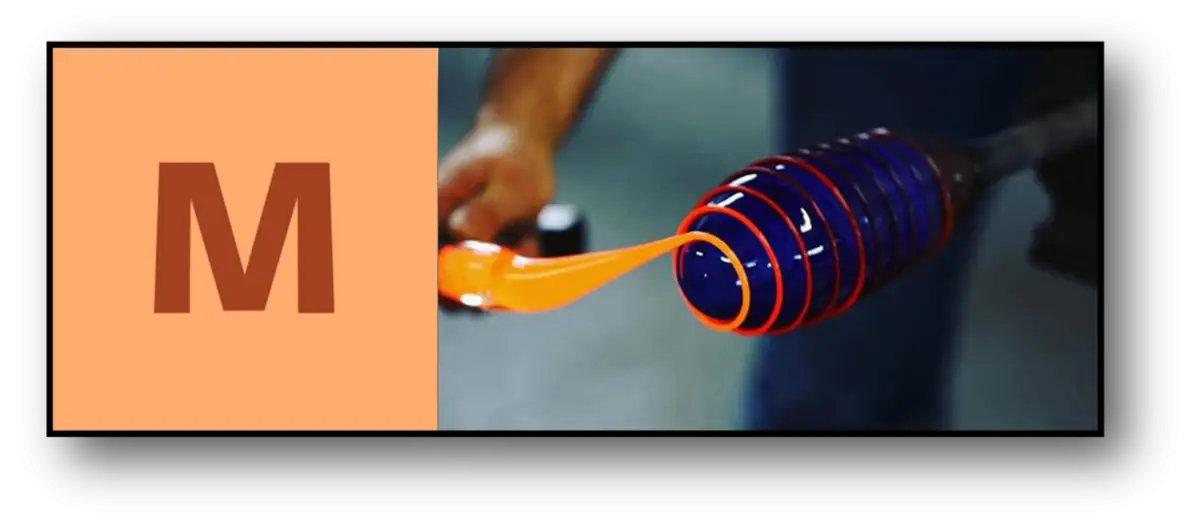 Blown Away
by Mary Clymer on
September 1, 2020
The Glass-blown art of Malcolm Ford
Glass blowing has deep roots in our region of the world. Tacoma native Dale Chihuly is at the heart of what he describes as the wild west of building an industry. It's no wonder that thousands of glassblowers moved to the area to learn from this pioneer. Here you can get involved in some of the first glass blowing schools in America.
Tacoma continues to have deep roots in the industry. Roots that continue to spread out into our woven history. Take Malcolm Ford. A young man who was presented with an opportunity back in 2007 to take a glass blowing glass. In middle school at the time, he participated in a summer program through Jason Lee Middle School in Tacoma. Malcolm remembers when the program leader came to tell his class about the summer program. He said," Glass blowing? What is that?" Intrigued immediately he signed up.
That summer Malcolm and his colleagues learned about safety and opportunity through a creative outlet. His first project was an ornament. From here his passion caught fire.
He started by making beads on a torch in an after school program at Hilltop Artists. Daily he showed up to explore and work on his new craft. He found himself there on the weekends as well. One year after he began his journey he was graduating from middle school and old enough to start working for the program.
He began to help with production pieces.
Playing with Fire
Sitting down with a torch to play with fire comes with a lot of risks. Malcolm says he's been burnt a time or two. It's the nature of the business. He told me the danger is part of the fun.
Like skydiving.
You have to trust it.
Malcolm might be onto something. We all enjoy a little risk from time to time.
"You will get burned," says Malcolm, "but like anything else you just start."
Almost everything a glassblower does involves extreme heat. Whether it be a high-temperature furnace or torch it gets hot fast. Sometimes the temperature goes over a thousand degrees celsius.
He recalls the first year he was learning. Ready to walk in and learn, and not to be afraid of the fire.
From Student to Teacher
Malcolm's family moved when he was in High School. During this time he left Hilltop Artists and went almost two years without blowing glass at all. It was too challenging with school and bus schedules.
Busy being a high school kid he found himself involved with One World Now. An organization that helps develop young minds into the leaders of tomorrow. Done through international educational opportunities. His classmates were looking for ways to raise money so they could go to study in Kenya. In that meeting, Malcolm mentioned that he knew how to glass blow.
The rest of the class stood in awe.
The program teacher helped set Malcolm up with a beginner glass blowing at Pratt School of Design in Seattle. Clearly, Malcolm was no beginner. He was let loose to create 5 glass blown pieces of art that were all auctioned off. Helping to send him and his class off to Kenya.
He remained active at Pratt. He became an assistant to the teacher. Soon he started teaching his own classes. Including the opportunity to teach high school students.
Malcolm continues to teach at Pratt. Guiding students from beginner to advanced. This allows him to continue to educate himself and allows him access to the glass.
"Teaching helps my skill," says Malcolm, "Helps me practice so I can be a more knowledgeable glassblower."
A true gift to his students. He said one of the fun things is figuring out what colors work together. He educated me on soft and stiff colors and how through trial and error he's figuring out what works best together.
Glassblowing as a Business
Pratt has allowed Malcolm to actively give to auctions, events, and fundraisers. From there he started to get requests for custom orders.
I asked Malcolm about a website I could direct people too. Malcolm Ford Glass on Facebook is where he stays most active. Explaining that it's hard to keep up. Things sell too quickly to be posted online for sale.
Malcolm is very active in the farmer's market scene. Currently, he can be found Thursdays 11-6 at the Burien Farmers Market, and Saturdays 10-2 at the Des Moines Farmers Market.
The Renton Farmers Market remains one of his favorite places to sell. Unfortunately, due to COVID, the Renton Farmers Market is strictly food this year. And limited at that. He told me cheerfully, "I Love Renton! It's my favorite town." He feels at home here and will be happy to get involved again once things start to open up.
He said the downtown area of Renton was a place where businesses supported each other and he liked that. He began listing off local business owners like Ryan Hammond of Handsome Devil Ink. And Kenneth Rogers of Rain City Catering as big local supporters.
He continued by raving about the awesome City staff who continue to support his business. Like the Farmers Market coordinator Carrie Olsen, and Economic Development's, Jessie Kotarski. They don't just supply a place to sell, they support the vendors. It made quite an impression on Malcolm.
At the Renton Chamber of Commerce, we couldn't agree more. It's one of the best things about being in business here. The local business really does look out for each other. Understanding that this is how commerce grows.
The Urban Market, ran this year through the Chamber by Ashley Dobson, is a great example of how Malcolm, and other small business owners, have the opportunity to connect with the community. Another thing Malcolm is looking forward to returning too.
In the meantime, Malcolm is busy working on pumpkins for the fall. A big seller.
This 26-year-old is already well on his way to building a name for himself in the industry. He is determined, grateful, and easy to talk to. Now is the time to buy from this up and comer before his work becomes the priceless art of tomorrow.
back