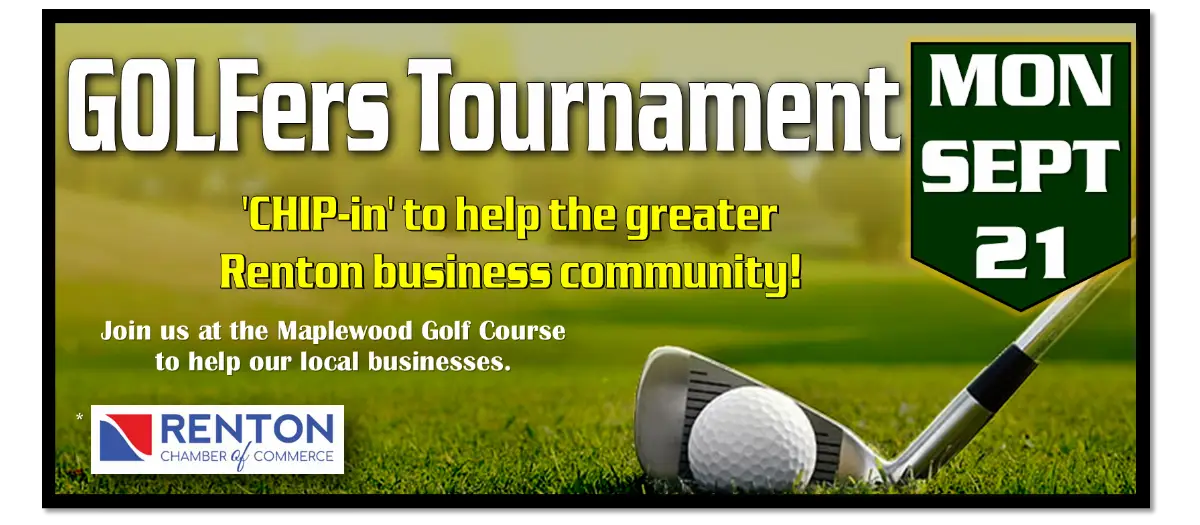 "Chip-In" for Charity
by Mary Clymer on
September 11, 2020
Renton Chamber GOLFers Tournament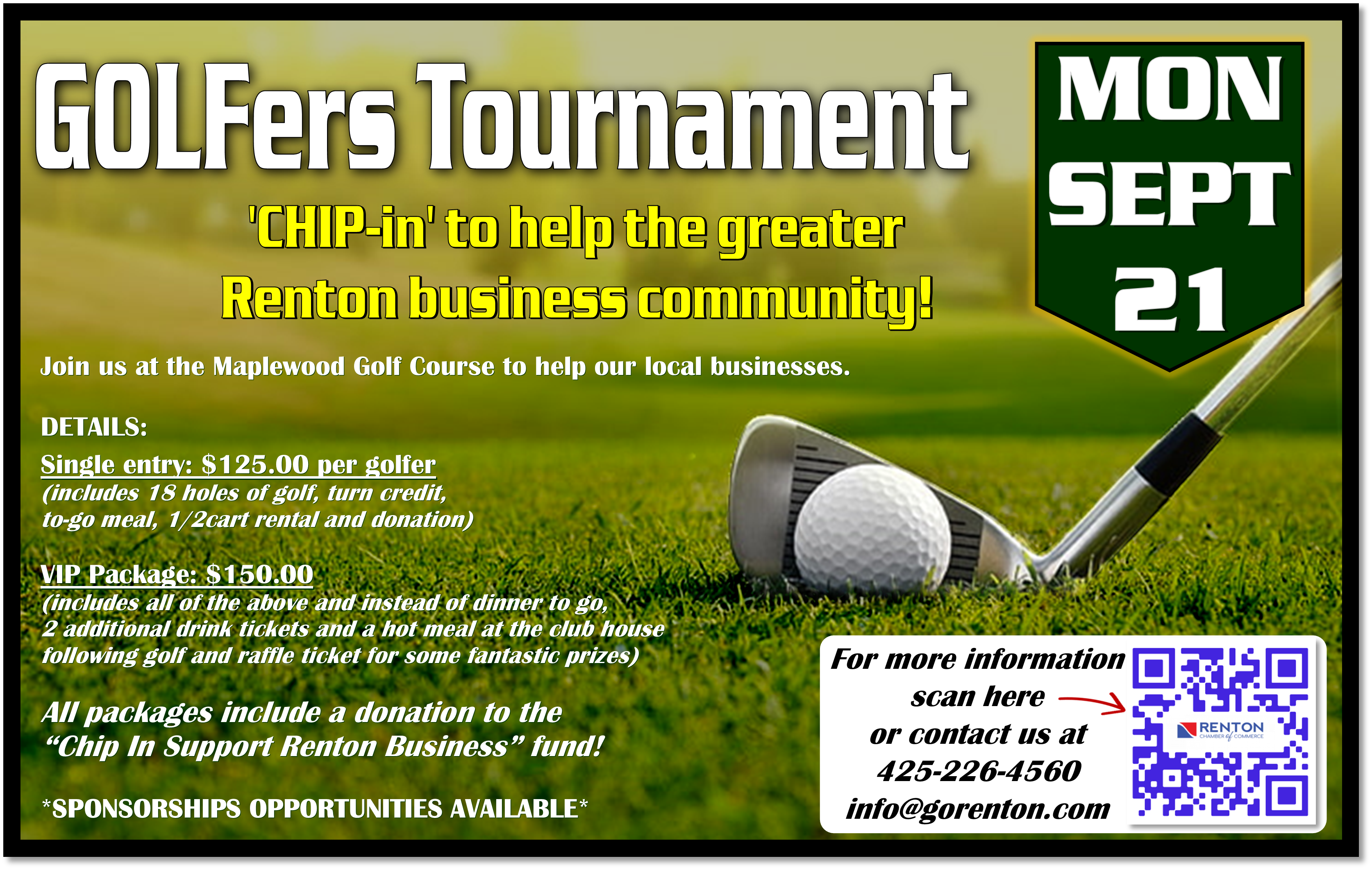 You are invited to a round of golf! Made better by local philanthropist Gerald Smiley. Smileys' new crowdfunding website Chip-in is at the heart of this year's event. Similar to a Go Fund Me site, Chip-In is the most rewarding way to support the events that matter most to you. In this case, every ticket purchased for the tournament will support Renton Businesses.
This popular Chamber event, which usually happens in the Summer, was delayed like everything else this year due to the COVID 19 pandemic. Working within the safety parameters the Chamber found a way.
Coining the name GOLFers Tournament for a year of quarantine. Indicating that this year, although still full of fun, the event will be more focused on the game of golf and less on the activities surrounding the event.
Golfers will be provided with an opportunity to "Chip-In" for Charity. Contributions will include donations to the Renton Chamber (in collaboration with a fiscal sponsor, OneEastside) Support Small Business Fund!
Birdies & Brews
This will mark the 6th year of this tournament. The Renton Chamber and it's sponsors are looking forward to seeing all your birdies as you enjoy some local brew out on the course.
By participating you will be part of one of the Chambers largest yearly fundraisers AND you will be helping provide funds for small businesses in your community.
It's one of the few remaining types of activities that can be done at a safe distance. Outside of your own golf team, it should be fairly easy to remain a comfortable 6ft distance from other participants.
Naturally, there will be several changes to help safeguard all in attendance.
It's a Hole in One!
Each hole will be sponsored by one of our amazing sponsors.
Typically you would have the opportunity to interact with these business leaders at their destination. This year the Renton Chamber is hopeful that the holes will still be decorated and encouraging. Making the only missing part the sponsors themselves.
However the holes themselves might not be decorated. It is still unknowing if this element will be restricted. Don't worry, if hole interaction is limited the sponsors you know and love will be placed around the putting green. These great sponsors will continue to encourage you along from the sidelines.
Rosie Rourke has been a great sponsor of this event for years and has gone as far as to claim that she has the best hole in Renton. The Rose Rourke hole was a casino theme. The player who beat the house would win a shot. but in the end, all players left with a shot of whiskey or tequila to keep their game going.
Rosie is leaving us in suspense as to what the team plans on doing this year. Because she can't be at the hole she's working on an interactive way to stay engaged on the course. Looks like you got to show up to see how this fun hole turns out.
Maplewood Golf Course
This annual event finds its home at Maplewood Golf Course for a new experience on the green. This par 72 layout is fun and challenging for golfers of all skill levels. Beautiful tree-lined fairways guide you along this well-maintained course.
MONDAY SEPTEMBER 21ST
Mark the date. You do not want to miss the opportunity to actually go do something fun in 2020. This all-day affair starts at 8 am.
The Renton Chamber of Commerce Annual Golf Tournament presents a unique opportunity to play a game of golf and safely network with other business professionals in a fun and relaxed setting. There are several options to get involved and maximize the opportunity for your business.
All Golf Fees include a donation to the Chip-in fund.
Sign up for a basic golf package for $125 which includes
A Swag Bag upon entry

A complete 18 holes

Turn credit with voucher for food and drink provided by Maplewood golf's courses own River Rock Grill.

A to-go meal or credit as you depart

Access to ½ a cart.

And your donation to the Renton Chamber of Commerce "Chip-In to Support Renton Business Fund"
*You will be placed unto a team based on your tee time - your own foursome preferred
*Raffle tickets can be purchased ala chart for $10 each.
Want More?
Make it the VIP Package for $150.
This package includes everything listed above AND
A limited capacity social distancing VIP dinner at the River Rock Grill

2 raffle tickets
TEAM PLAY
Already have a team you want to play with?
Great! Register together.

The cost remains the same, either the $125 or $150 per person.

Two carts

Register under a business name for an added shout out in promotional materials
Sign Me Up!
Ready to get your golf game on?
Contact Ashley Dobson at events@gorenton today.
SPONSORSHIP OPPORTUNITIES
Looking to get the maximum exposure and recognition in all event promotions?
Join the list of our amazing sponsors who make this all possible. We've already mentioned Chip-In, however there are many local businesses who've come together.
This list includes:
2020 SILVER SPONSOR
2020 BEVERAGE CART SPONSOR
2020 HOLE SPONSOR
There are a ton of ways to become a sponsor. Each level includes its own benefits. Making it easy for you to showcase your businesses' unique appeal.
Sponsorships range between $8,000 (Where you get Top Billing!) to $50 (Be a part of the ever popular Swag Bags).
If you would like more information on the tournament or sponsorship please contact
Join the Fun!
No doubt this year will look a little different. But hey, no one will be around to see you miss that par 4. Making it the perfect year to step up and try something new.
We've been cooped up for far too long. So get out of your sweats, dust off your golf bag, and meet us on the course.
Do something active and fun. And Chip-In to help local business too.

back