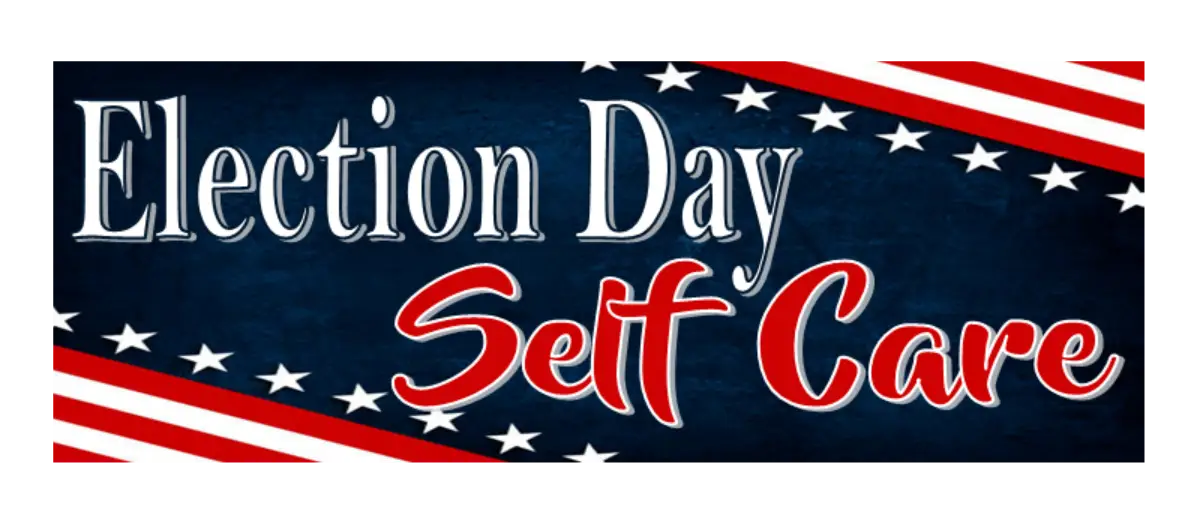 Election Day Survival Kit
by Mary Clymer on
November 3, 2020
A Little Self-Care can go a Long Way
Today is the day we've all been dreading. It feels like all of 2020 has been leading up to the presidential election.
Arguably the most important election of our life. Tensions are high, and people are downright over this never-ending roller coaster of political strongarming.
Both candidates are backed by passionate citizens. Believing that if their side doesn't win it will mark the end of America.
All night people around the globe will tune in to see how things are shaking out. Anxiety is running high and whatever the outcome may bring a goodly portion of people will be unhappy with the results.
I can see it now, recall after recall, people yelling fraud! Liar! How could this be?
This may be the finale to 2020, and it could be a long one folks.
If you voted, hurray! You've done your part. You let your voice be heard. After that, there's not too much more you can do.
I suggest staying involved. As my grandpa used to say, "If you don't like what's going on globally, you need to get involved locally."
So true Papa.
When you look at the magnitude of problems on a grand scale it's too overwhelming, but once you can grasp that your voice matters here, locally, in your town, you begin to see how big change starts small.
This election has helped millions of Americans get out and get active. Even during a quarantine. That's incredible!
It also means that we are all stressed beyond belief. What will our future hold?
We could use some serious T.L.C. (Tender Love & Care)
We may not be satisfied with election night results and know we probably won't get any firm answers for another week. It's impossible to know what will be no matter which way this ball drops.
But we do know that our mental health needs a rest and digest period.
Enough with being on high alert. It's taken a toll on us mentally and physically. And we can see the emotional hangover from election night looming in our future.
I predict a lot of people call out to work this week. I predict a lot of people get sick this week. I predict that the world is going to feel very heavy for the next month.
Let's talk about things you can do to protect your health. Below are great self-care practices to get into this month here in Renton.
You treat yourself to a massage every once in a while. And every time you do you leave thinking the same thing. I should do that more often.
Yes. You should.
Message is a great self-care practice. It has all kinds of healing and nurturing aspects. Including…
Decreased Anxiety

Enhanced Sleep Quality

Greater Energy Levels

Improved Concentration

Increase Circulation

Reduced Fatigue
According to their website...
Experts estimate that upwards of ninety percent of disease is stress-related.
And we all know that nothing is more effective for immediate relief like a massage.
This quaint studio on Lake Washington Blvd. has reopened for massage and acupuncture.
Typically you could stop by for yoga and pilates as well, but they are grateful to be partially open. They remind their guests that they continue to hold space for your mind, body, and spirit as we navigate through this unforeseen terrain as a result of the COVID-19 health pandemic.
They have taken every precaution to ensure that their community stays safe.
Spend some time at the day spa. Hiding behind a mask for the past eight months our faces are feeling neglected. A facial from a professional will cleanse, exfoliate, and replenish your skin.
They have many offerings from waxing to skin peels.
Head over to the website for a first-time visitor discount.
Sweat It Out
If your idea of self-care comes more in the form of exercise, then you are in luck. Many of the local gyms have started to reopen.
Vigor Ground Fitness and Performance
This is not a one size fits all kind of fitness center. This is a gym for total transformation. The trainers here focus on more than just your physical body. They look at your habits and lifestyle. The aim is to solve all the issues you feel are holding you back from peak performance.
After an assessment to pair you with the right trainer they support and guide you along. Keeping you on track for your personal fitness goals. The community here is tight, but they remain 6ft apart to keep everyone safe while pushing through those election day demons.
The team here works to maximize your exercise time. Helping you to set goals and then presenting you with the accountability most people need to stick with an exercise program. Working safely and effectively to help all achieve their fitness goals.
"Whether your goals are to tone up, lose inches, increase stamina and strength, add muscle, or learn about the benefits of healthy dieting, SpoonFed Training is the healthy solution for you."
All levels are welcome at Heva Brazilian Jiu-Jitsu. They even offer your first class for FREE! The website invites you to strengthen life, family, and community with them. Something we could all use a little help with right now.
Offering both kid and adult classes.
Read About It
The self-help industry continues to grow, and that includes books. There are hundreds of books on mental wellness out there. King County Library System is sure to have one to peak your interest.
Although you won't be able to go inside and browse the shelves, you can pick up curbside any book you have requested online. Check their website for more information on pick up times.
Now would be the perfect time to change your perspective. At Seaplane Scenics you have the opportunity to take a floatplane tour. See how your world view changes when seen from the sky.
Flights leave from the Renton Municipal Airport and offer surreal panoramic aerial views of the Northwest.
What will you choose?
With so many options for self-care, the big question is…
How will you take the time to show yourself self-care after election night?
What steps can you make to make a practice of regular self-love?
Take a walk with yourself (or loved ones in your covid circle) and feel human again.
back