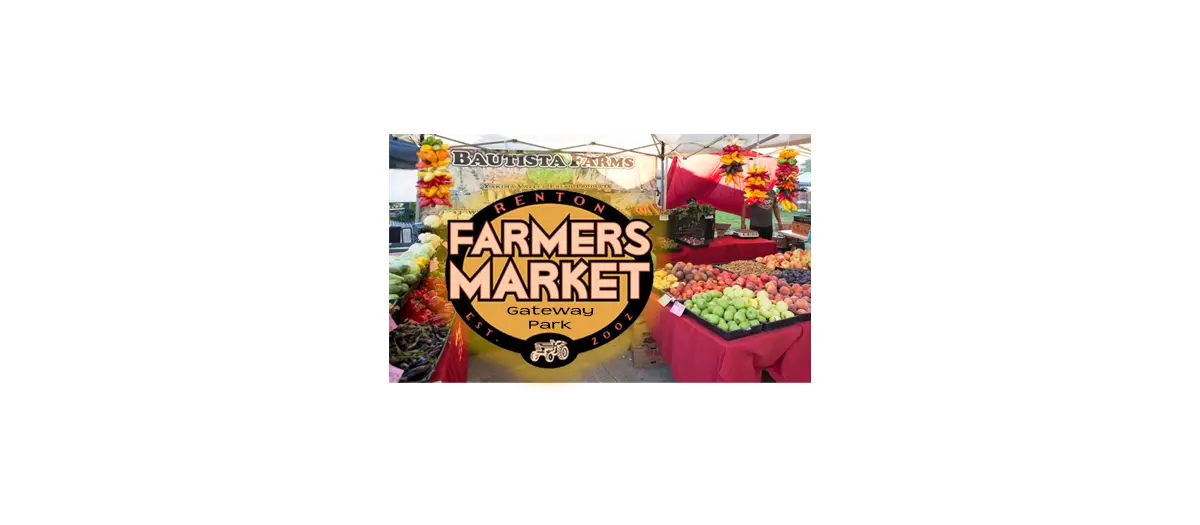 Farmers Market
by Mary Clymer on
May 29, 2020
Essential Food Shopping
What to Expect from the Farmers Market.
Be Patient, Be Kind
On Tuesday June 2, at 3 pm the Renton Farmers Market kicks off the start of their 19th annual season. The Market will continue to run it's normal season time and hours, every Tuesday 3p-7p through September 29th. That is about the only thing that hasn't changed this year. The Market will follow COVID-19 regulations established by Public Health - Seattle & King County. This year the theme and feel are "Be Patient, Be Kind". Reminding us all that we are still in the middle of a pandemic, and that certain precautions must be put into place to ensure the market remains safe for everyone.
New Location
New regulations require a separate entrance and exit so market staff and volunteers can monitor the number of shoppers and ensure social distancing. The new location is in Gateway Park. Formally where the Big 5 building stood, just west of Piazza Park.
This location is more easily controlled. With all the new measures being put into place, our local farmers have to abide by them too. Meaning more space between them and fewer of them. Where normally a market would host nearly 60 vendors, this space allows for a third of that. With activities being cut off at this time to prevent social gathering, don't expect to see community booths or kid activities. There will be no music and no live demonstrations.
Think Essentials Only
In 2020 the markets will operate as a quick in-and-out destination for essential food shopping. Market organizers are asking that you consider sending only one shopper per household and have your list ready. This will speed up the time for those waiting to enter. They expect approximately 20 vendors to be present, which will include all of the farmers and a few staple food vendors, as space permits. Current regulations dictate that the market can allow two shoppers for every one vendor. This means that if there are 20 vendors, only 40 people total into the market footprint at a time. When one goes out, one comes in.
There will be hand sanitizer available. Shoppers will be asked to wear face coverings to adhere to the Public Health - Seattle & King County directive that took effect on May 18. There may be a line to enter. If so, please look for and use markings to help with social distancing (6 ft in between each one).
What to Expect
As always, free two-hour parking is available at the City Center Garage (655 S. Second St.) and public transportation is easily accessible. The market's new (and temporary) location is adjacent to the Renton Transit Center.
Be advised that there will be construction happening in the downtown area throughout the Market season. Although it will not directly affect the market footprint, it may change the flow of parking, so be prepared.
Once in line, you will be directed by markings on the street to wait 6ft. apart. Starting at the entrance located on South 3rd Street and then following along Logan Ave.
If we all work together by coming with our shopping lists and by only one person per household coming down to shop, the line should move swiftly.
Below is a map of the new market layout. Giving you an idea of what to expect.
Support and Understanding
Carrie Olson, Farmers Market Coordinator for the city of Renton, feels incredibly grateful to have the opportunity to continue with the market in a time when so many activities have stopped. She says it hasn't come easy. Every week she's on the phone and in meetings keeping up to date with the latest news. She's had to make some tough decisions and phone calls to vendors who weren't too happy to hear that they will not have space at this year's market.
Like many people, some of these businesses rely on Summer markets and festivals to survive. The hope is that as restrictions get looser, that the market will gravitate back to Piazza Park, allowing for more vendors and customers.
As we've all seen over the last few months, things can change overnight. Carrie was seeing new and changing guidelines, so she decided to get involved by volunteering at the West Seattle Farmers Market. Giving her the opportunity to figure out some details and glimpse into what was to come. She said it felt really good. Much safer than being at the grocery store.
"There is comfort in knowing the food is direct from the farmers, meaning a lot fewer people have touched the items."
The organizers ask for your support and understanding during this season's market. They are doing all they can do to help keep this alive and moving.
Carrie reminded me in our conversation that things will look different this year and this isn't what they want, but she is staying positive for her community. She said, "We've got to keep these farmers in business! Let's just get through this year, so we can get back to normal next year."
Let's hope so.
Some things haven't changed.
You can still expect to find the freshest Washington grown produce, flowers, and other staples from your favorite farmers. You can still say hi to your neighbors from a distance, and you can still make it a fun outing. You are encouraged to bring your own social distancing attire. A hat dressed in pool noodles or a hoop skirt have been some fun examples. Make it fun. We are all in this boat together, and we can grumble at the impact and change, or we can raise each other's spirits. I've seen our community choose to unite and uplift these last few months, and I hope we can continue to stay positive as we move forward.
Please share this information with others to ensure the health and safety of our whole community.
back