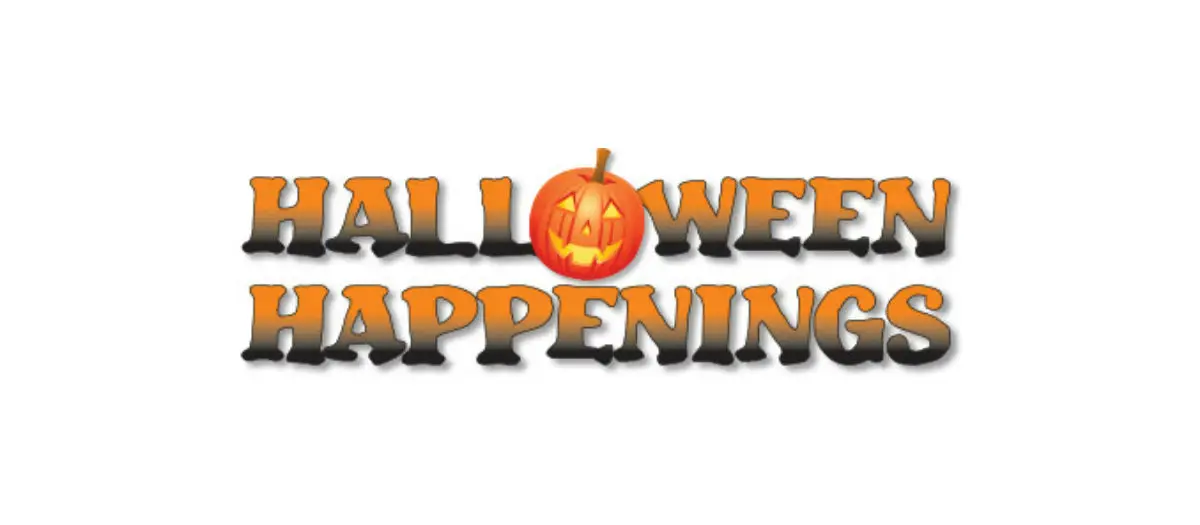 Halloween Happenings
by Mary Clymer on
October 23, 2020
Put on a scary mask and join the fun
You know fall is in full swing when kids start sharing their Halloween costume ideas. The first of many holidays that we'll be celebrating over the next couple of months. Holidays that center around the community will look very different this year.
As the temperature drops along with the sun and the leaves change color and fall to the earth we seek the comforts of the community to help us through the blustery days that lay ahead.
To slow the spread of COVID-19 it is so important to move into these events with a clear head. Keeping our family, friends, neighbors, and community safe.
Hopefully next year at this time we can look back at the 2020 holiday season as a spooky memory of challenging times. Back to the connections in the community we are so used to. But in the meantime changes will be necessary.
Here's a list of Halloween Happenings going on around town. So put on your spooky mask and go enjoy the season.
Renton Community Center Halloween Drive-Thru
Get the whole family dressed up, including your car. Turn on the spooky tunes and join the Renton Community Center for their first-ever drive-thru Halloween event. From 5:30 to 7:30 Tonight, Friday, October 23rd drive down to this spooky spot if you dare! Those who are brave enough will be rewarded with treats as you travel through Candyland Lane, Glowing Gully, Jack-O-Lantern Road, and more.
Be sure to register to secure your spot in the fun. $15 for residents and $18 for non-residents.
Tricks & Trivia
The City of Renton's Recreation and Neighborhoods Program presents the next virtual trivia night. Tricks & Trivia is a night of Halloween trivia fun. On Tuesday, Oct. 27 at 6:30 pm Join council women Valerie O'Halloran as we test your Halloween knowledge.
Registration will be posted on the city website once the date gets closer.
Scary Stories to Tell in the Dark
Join the Renton Civic Theater the week of October 25th - 31st for live readings of scary stories. This virtual event is a kick-off to a series of radio dramas the theater is working on to replace their live season. All events are FREE during the week and lead up to the big event on Halloween…
An Evening With Edgar Allen Poe
Halloween Night, at 8 pm.
This will be the theater's second year doing this highly anticipated event.
Head over to the website for links and information to be posted as the events get closer.
Olde Fashioned Halloween Scavenger Hunt
Another week-long event for the whole family to enjoy. This year instead of the Olde Fashioned Halloween Party in the alley the Renton Downtown Partnership is hosting a scavenger hunt.
Head over to rentohalloween.eventbrite.com and register for the fun. You will be sent a link to download the map to find the clues posted in storefront windows throughout downtown. Find the clues and solve the riddle to complete your game card.
Turn in your completed game card on Saturday, October 31st in Tonkin Park (399 Williams Ave S.) a.k.a Donkey Park. From 1p-6p the Downtown Renton Partnership will be collecting game cards in exchange for a goodie bag.
Registration is FREE but will help them know how many goodie bags to prepare for young ghouls and superheroes alike.
Head over to their Facebook page to stay up to date with all the fun activities happening year-round in Downtown Renton
Cugini's Pumpkin Patch
Happening every Thursday - Sunday all month long at Cugini Florist from 12p-8:30p. Every day they are featuring a daily special. On the weekends from 5-8, there will be rotating food trucks, Vendor pop-ups that include three local displaced artists who you normally would find at farmer's markets throughout the summer. Fresh flowers, candy, and Halloween treats.
Swing in to say hello to the new owner and check out the patch with 10 different varieties of pumpkins.
Renton Live Halloween Special
Every week the Renton Chamber hosts Renton Live! Their Halloween special will be filmed on Wednesday, October 28th at 6 pm. You can watch it live on Facebook or their YouTube Channel. A pumpkin carving contest winner will be announced! They have a very spooky line up of costumed guests to appear on this circus-themed event. It will be live from Carco Theatre and Emceed by the circus ringmaster and hosted by the Strongman and the Bearded Lady. Lots of fun and surprises as always on this unhinged event.

Laketoberfest
Halloween not your thing? Head down to the Hyatt Regency Lake Washington. Celebrating Bavarian culture all month long. Laketoberfest is their version of the ever popular Oktoberfest. Head out to Docks & Drinks for traditional German style food and beer. Taste authentic pretzels, schnitzel sliders, and bratwurst.
Trick or Treat!
Remember that little ones will be wild with imagination and sugar. Although social distancing is still a thing, many cannot resist the fun. If you plan to be out and about on Halloween be sure to stay safe. Avoid large gatherings and protect yourself.
If you are planning on handing out candy to the little monsters be prepared with some social distancing measures. Although risk is low in this exchange wiping down the door might be nice. You should also consider not leaving out a bowl of candy for multiple hands to rummage through.
However you decide to celebrate this spooky season keep in mind that we are all in this together. The actions of the individual affect the many. Now that we are in cold season it's even more important to protect ourselves and those we love.
back