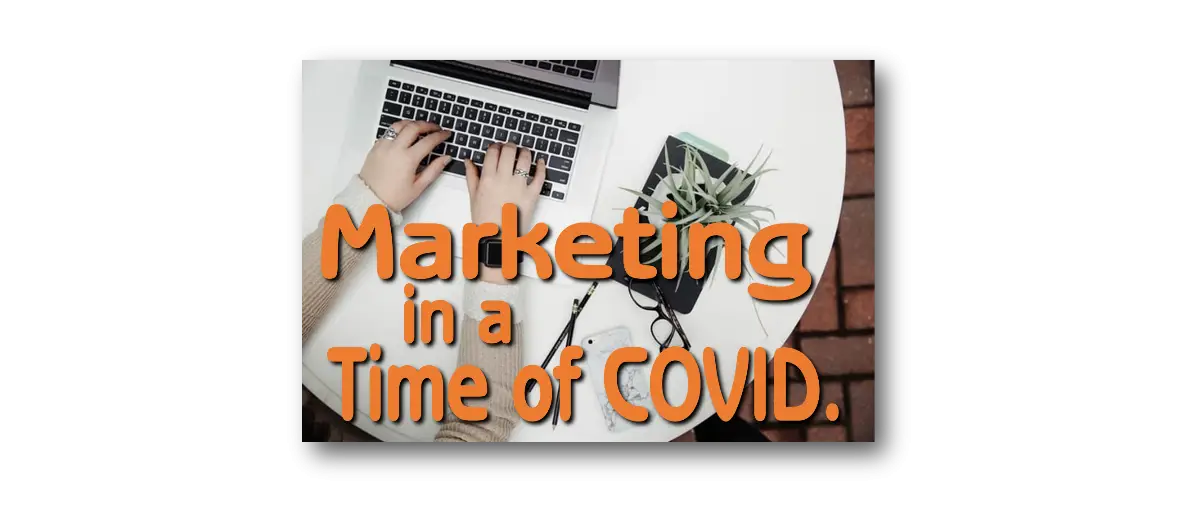 Marketing in a Time Covid
by Mary Clymer on
June 5, 2020
Marketing in a Time of COVID.
5 Marketing Ideas for our Current Climate
Owning a business takes many unexpected twists and turns. Your action plan might be clear, but it's hard to anticipate what might come up from moment to moment. Our entire world economy is experiencing a major monkey wrench in the way business is operating.
Overnight businesses have been tasked with figuring out new ways to operate and stay alive. Already we've seen the impact and ability for things to pivot very quickly.
So where does this leave you as a business owner? Has there ever been time to think about it? Or do you find yourself caught continuously on a rollercoaster?
Right now feels like the Wild West. No one has the answers to your questions, and there is no normal. So the question is, how do you stay in communication with your customers in this sensitive market?
Below are 5 ways to address your current marketing plans so you can stay in communication with your customers
1. Keep People Informed
Any time we find ourselves in a crisis it becomes extremely important that we recognize that people are living in a climate of worry and fear. This is a very real feeling, you are probably feeling this too. This is your opportunity to respond to the crisis at hand, not capitalize.
Keep your audience engaged by sharing proactive measures you're taking for the business. Policy updates that you're moving to incorporate as updates are released from the city, state, and nation in regards to your business.
It may seem silly to announce on social media what everyone might already know. By doing so it adds value to your customer relationships because they are being informed by you what your business will look like.
2. Don't be an alarmist.
Now is the time to be mindful. Informing customers is important, but you don't' want to add panic to their already panicked life. Don't use overly dramatic language. It's good practice to remember that many people are currently not working and are genuinely worried. Causing alarm will only hurt these relationships. Humility and empathy for your fellow citizen should be part of your messaging. Tactless Messaging now could damage future sales. Your marketing is your message to the people you serve. It's a good practice to relay a clear and thought out marketing plan that is both sensitive and Informed.
3. Be a Part of the Solution
Highlight how your industry and business can help during this stressful time. Provide value and benefits to what you offer. If what you do or offer enhances people's lives while quarantined, share that message.
Ask yourself…
Does your product or service bring value during stressful times? How?

Can people access it remotely? In what ways?

Is it educational, inspirational, or entertaining?
Communicate the benefits with the public. Create content that helps the public see the need for your product or service. In today's cultural climate you must clarify your unique value. Focus on helping people and everyone walks away feeling better about the interactions and investment.
4. No Touchy Visuals or Language
Evaluate how your business is communicating with the images you use and the language you speak. These are both powerful tools, and if you want to stay current, it's important to think about the messages your sending.
Now might not be the best time to use visuals of people shaking hands or large gatherings of people. Swap out visuals on your website and get current. If you use social media be aware of the images you put out there in regards to our current climate. Websites like upsplash.com host an array of free images current with the pandemic including people in masks doing business.
Perhaps now is a good time to reframe the marketing language commonly used. Taglines like "working hand in hand" or "Stay in touch" may be figurative, but it also feels insensitive. Pay attention to the words others in your field have turned to while addressing this.
5. Be Positive
Nobody wants to be on a sinking ship. Now is the time to be real. People are feeling uneasy, and they don't need any more negative input. Collectively we know businesses are struggling, but your audience wants to hear how you're staying positive and motivated during this time. They want to get behind the underdogs and see them rise up. They do not want to be brought down.
Understandable it might be hard to stay positive, so I suggest re-evaluating your mission statement. What is at the heart of what you do? Revisit your company's values. Find purpose from the spark that got you to open a business in the first place.
So what does your business stand for? How can you adjust it to meet the current pandemic? Get real with yourself and your story. People will respond to your shared emotions. Speak to your audience about your values. Speak with the future in mind. Let them know you are anxious to connect with them again real soon.
We all need a little hope right now. We want to see humanity rise. Maybe you share what you're doing non-business related to show how you're coping or rolling with the times. When we connect with our customers as a human, not just a business you will be more real. "He's just like me!", "I obsess over plants too", "His humor is fantastic". Connecting on a personal level builds trust, and that's something we can all feel positive about.
Finding value and meaning is an important part of keeping us motivated. During these strange days, we must rise up and find new ways to stay connected. This isn't always easy but can be a great tool to add to our life skills. Knowing that you have the power within you to take charge and be flexible when life throws you a curveball will help you develop skills you might never have learned otherwise.
You can continue to add value to the world through your product or service by paying attention to what you are putting out there for others to see.
back