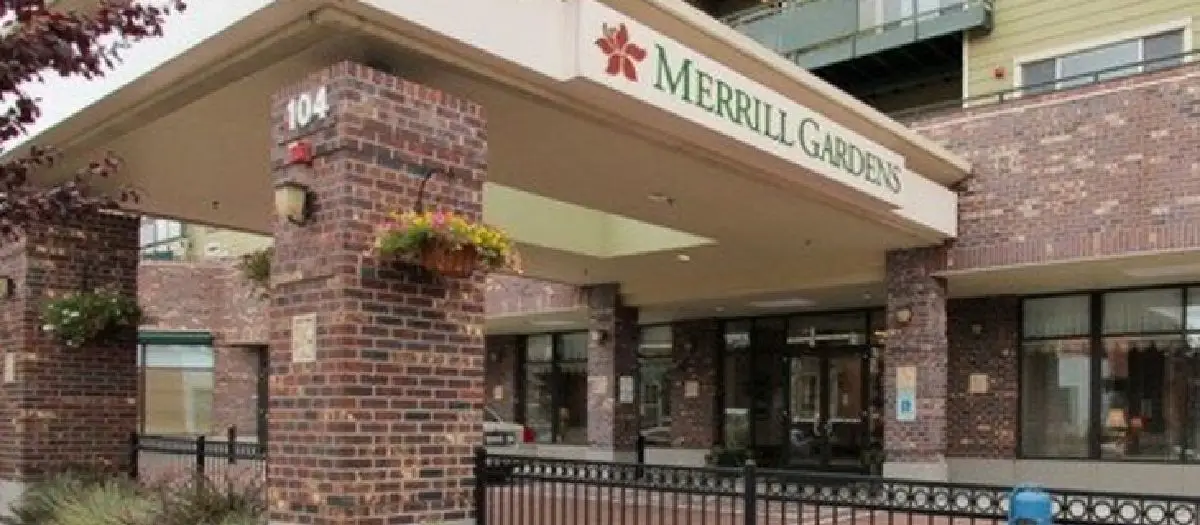 Merrill Gardens Talks About Life During Lockdown
by Mary Clymer on
March 9, 2021
Senior Care in the Heart of Downtown Renton
The COVID-19 pandemic has changed the way we live. No one has been affected by it more than our senior citizens. To slow the spread, assisted living communities were among the first to go into lockdown last year.
Visiting hours disappeared, volunteer help and nonessential activities were canceled. Group activities and communal dining went away. Unless someone was in an end-of-life situation, life in senior homes went into lockdown.
Seniors are at a higher risk of developing severe illness or dying from Covid-19 so immediate action following CDC recommendations were taken.
Merrill Gardens in downtown Renton was no exception. It was at the end of February last year that the staff remembered all the changes taking place virtually overnight. In an effort to minimize exposure, they worked fast.
Shelly Thompson, Senior General Manager at Merrill Gardens, recalls the 5 months where they were very restricted. They, like all of us, didn't know what to expect and were doing everything they could to protect their residents.
For the first 8 weeks, staff and residents were tested regularly and went 10 months before having their first positive case. (Few senior facilities could say the same.) Shelly believed part of that was because they were being super careful.
She believes it has been a lot easier than some of their other sister communities and their competitors where they don't have as much space to work with.
The saving grace for them was that they had so much outside space that is contained within the community. Allowing seniors time to get outside and keep physically distant in a controlled space.
This already stunning facility had just built this beautiful new expansion to their community that was finished a year ago. Just in time for the pandemic! Yet in the excitement, they had to lock it down. Now, as restrictions loosen, the memory care unit is open and they've got people moving into the new space.
"Things are getting back to normal" Say's Thompson, "More freedom for residents to come and go in a way that's sort of considered normal"
While it has been frustrating for the family, Thompson believes they will reflect on the things that happened over 2020 and say that they're very grateful for the safety that they have been afforded, and for what they've been able to accomplish and do inside the community to keep residents as active and engaged as possible.
For almost a year, residents and family members have been able to meet in the main part of the building at the front doors. Once inside, the second set of front doors are locked, the team set up a great microphone system. Here the resident and the family could sit across from each other (like a foot apart) and still have a conversation and visit. These were hour-long chats that families could schedule and keep up communication while remaining safe.
Shelly gushed about the incredible support they received from the families. "I think of them as our thread," Shelly told me. "Even in their frustration, of not being in physical contact with the person they love, they are so grateful knowing that they're safe."
Families can continue to visit in this way, but now (after a year of waiting) residents will be able to leave. They can schedule an outing with their families. Some even have plans to visit family out of state. Of course, they will go into a two-week quarantine when they return, but residents understand the risks and are eager for family time.
A Community Connected
Lilia Anderson, Director of Community Relations, along with the marketing department came up with a way to support local businesses during the year as well. They began by asking the residents what they really missed. Posing them with the question, "If you could go out and get three things today that would really make your day happy what would they be?"
The responses they got were simple and ranged from things like Domino's pizza to a pumpkin scone from Starbucks. The marketing team went through the lists and connected with local businesses to help make sure everyone got at least one thing on their list.
Local businesses were contributing gift cards and money for them to go out and get something they really wanted. It was as if the community banned together to provide simple pleasures.
"It was just the coolest thing," Lilia said with much enthusiasm. "You forget when things like this go on and you're dealing with these huge problems that something simple can be so meaningful to someone who doesn't have access to go out."
Getting out in the community was important to Merrill Gardens. Reminding people that they're still there and providing people with resources. The Renton community has been so supportive and they always want to give back. This outreach went so well that Merrill Gardens was able to outpour the funding received to all seniors in the Renton community. The Share the Love event that happened in February gave all seniors 65 or old an opportunity to get a free Starbucks Coffee when they showed their id in the drive thru at the Rainier Ave Starbucks.
Shelly and Lilia may be shy about tooting their own horn, but these incredible women are constantly making an effort to get their residents out in the community. Pre-COVID it wasn't uncommon to see the Merrill Gardens bus at every event making sure their residents were involved and active. One of the beautiful things about Merrill Gardens is that they make sure everyone has an opportunity to stay connected to the events happening in the community they love.
It's a difficult time for families and they are doing their part to connect the Merrill Gardens community with the right resources. Shelly reminds me that people are having a difficult time making a decision about what to do as they struggle to take care of their parents and their own families. She wants to make sure the families know they are there to support all members in the community so everyone can make the most informed decisions.
As a community member you can help our senior population feel recognized by waving when you walk by and saying hello from a distance. Dropping off local gift cards and treats to brighten their day. Just don't expect to get too close quite yet.
Gratitude and Thanks
One of the good things that 2020 provided was access to higher technologies that allowed families and friends to stay connected. Cellphones, ZOOM, and FaceTime apps have been helpful tools for us all in a time of physical distancing.
Shelly also reflected on how quarantine brought the residents and staff closer together. Gratitude and thanks seem to be mutual feelings.
"We've all been stuck with each other inside the building for a year and I think there's been more appreciation for the vulnerability of our residents on the part of our staff, but also more appreciation on the part of our residents for what the staff does for them."
Shelly spoke from the heart.
"We are so fortunate to live in a time where we have been allowed to be leisure in a fully operational facility like Merrill Gardens. It's easy to see how one might not notice all the work that goes on in the background. Covid has taught us all to be more patient and understanding of the people in our lives."
Closer than ever, the facility begins to branch out cautiously, always keeping safety in mind. Shelly and Lilia are both hopeful for the future. Now that they have a handle on how to navigate in this climate they are working on addressing issues of sustainability. All the residents have been vaccinated and most of the staff as well.
They are all happy about the teamwork and cooperation to get through last year in one piece, but as Shelly said, "2020 was the pits and I'm glad it's over."
Looking for Senior Care?
Merrill Gardens sits in the heart of downtown Renton and pulses life through our community by actively engaging in events and providing opportunities for their residents. Many of the residents are lifelong Rentonities who are comfortable staying put in the community they grew up in.
It doesn't take long to see the compassion and love that flows through this facility, and it was my honor to have the opportunity to chat with Shelly and Lilia. Two advocates for their residents and activists in our great city of Renton.
If you would like to know more about Merrill Gardens and all the wonderful things they do to keep residents safe, healthy and happy, please contact them at 425-272-1193 to find out more.
back