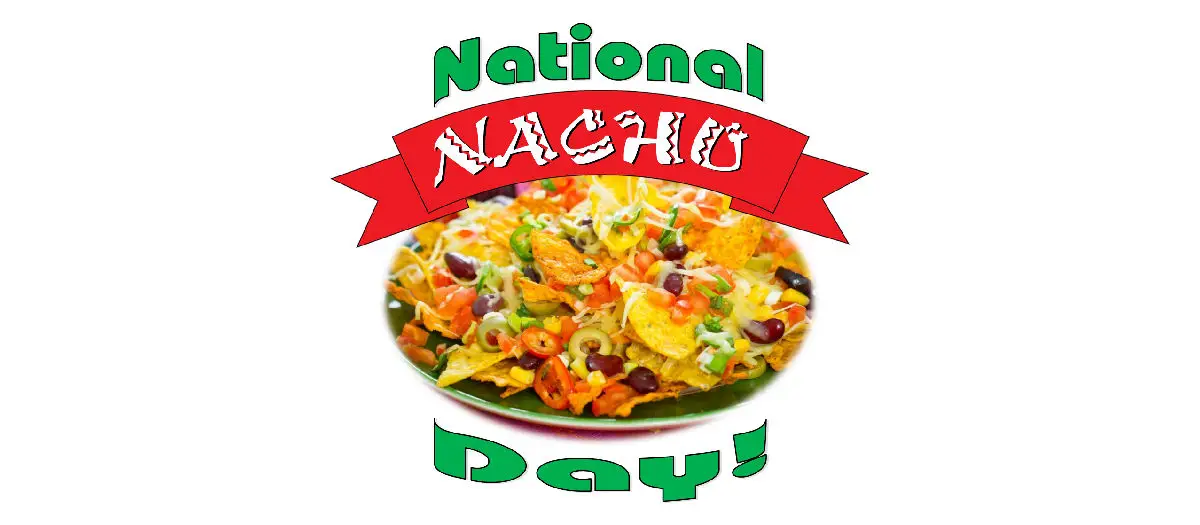 National Nacho Day!
by Mary Clymer on
November 6, 2020
It's the Cheesiest Day of the Year!
People I cannot make this stuff up. Today is National Nacho Day and I couldn't be more thrilled. Since we are all detoxing from Tuesday's election, this week we focus on self-care. And nothing says comfort food quite like a nice plate of nachos.
The very thought of a sizzling plate of hot cheesy nachos, loaded with all my favorite ingredients makes my mouth water.
Fresh salted tortilla chips burnt on the tips with layers of black beans, onions, olives, and loads of cheese. Topped off with fresh guacamole, sour cream, and jalapenos (not to eat by to pick off because I like the flavor they leave behind).
You might enjoy the same but with layers of shredded chicken, beef, or pork. It's one of the delights of being a vegetarian, no one wants to share with me, so I get all the loaded top layer to myself.
Some like them hot and spicy, some like them with a cheesy sauce. Everyone has tips and tricks to make the perfect dish of nachos. One thing we can all agree on is that nachos are delicious. They bring people together. We can disagree on many things, but when the nacho's come out, we're all friends. This is why this dish is a favorite all over the world. They're messy, they're cheesy, and they deserve their own holiday.
History of Nachos
Originating in Piedras Negras, Mexico, just across the border from Texas.
The story goes that in the early 1940's a group of American soldier wives stationed near the maitre d'hotel came into the hotel restaurant for something to eat. The owner, Ignacio "Nacho" Anaya, had closed up for the day and didn't have enough ingredients leftover to make the ladies a real dish.
He had to do something.
He took what was left of the tortillas and crushed them into pieces. Then sprinkled all the cheese he had and added some pickled jalapeno peppers on top. Baked it up for a few minutes, letting the cheese melt, and presented the snack.
Lucky for us all these ladies loved it! They asked Ignacio what he called the dish.
He answered "Nacho 's especiales".
Word of this new dish traveled through the Southwest like wildfire.
Not long after the recipe was printed in St. Anne's Cookbook. From that time the recipe has been modified and played with by all who feel like re-creating this family favorite.
After Ignacio Anaya's passing in 1975 a plaque was installed in the town where he first created this accidental masterpiece and National Nacho Day was formed.
It is said that the Moderno Restaurant in Piedras Negras uses Anaya's original recipe to this day.
How to celebrate Nachos Day
Obviously you should celebrate this treasured day with a nice pile of nachos. Make them yourself or head out to support one of our many local restaurants that are seasoned in the practice.
Listed below are a couple of my favorite nacho hot spots here in Renton.
I realize there are many more but I have narrowed it down to my favorite. Because of the pandemic some places are on limited menus that currently aren't serving nachos, so be sure to call ahead.
Hands down the BEST NACHOS IN RENTON! This crew does it right. They use the layering technique, and they don't skimp on size. The plate is overflowing with cheesy pleasure.
It has been rumored that one of the owners demands that there is cheese on every single tortilla chip you are served.
This menu is so full of excellent choices that it's hard to narrow down to the nacho's, or as they call them Spachos. But I'm telling you they're worth it.
If it wasn't for how good there pizza is, I'd say it's the best thing on their menu.

If you grew up in Renton, like I did, then there is nothing like the sizzling nacho plate that Toreros delivers.
The best part about these nachos is that they are served up quick. Sometimes I wonder how it's even possible, but who am I to question perfection.
For those who live up in the highlands neighborhood Doofers nachos are a must. They offer a full and half size, which always leaves me wondering… Who orders a half a plate of nachos? I guess some people only live half a life, but hey, you do you.
The crowd is lively and nacho's won't disappoint.
This is one of my favorite "hole in the wall" places to wander into. This unassuming location in the Sunset Square stripmall gets overlooked by the dreaded DMV lines. I say if you're headed up for a new license photo treat yourself to this family owned authentic Mexican experience.
With all the construction in downtown Renton these days I find myself sticking to the businesses I know. Fortunately this "Gym" was recommended recently. At the sound of nachos I just had to give it a try.
Nice people, Fresh food, and great prices.
The amount of cheese that flows off of these nachos makes my heart happy. It's important to remember to save some of that cheese for the naked tortilla chips hiding at the bottom of the plate, but totally worth it.
How Will You Celebrate National Nacho Day?
What about you? Where is your favorite place to get nachos? I'm always in the market for some cheesy goodness and I love to hear from readers like you. Let me know what I'm missing out on here in Renton. And be sure to take the nacho challenge from the list above and let me know what you think.
It's Friday, it's National Nacho Day, and suddenly you have something exciting to have for dinner. So go ahead and treat yourself. Then post your best nacho photo up on social media using #NationalNachosDay
back