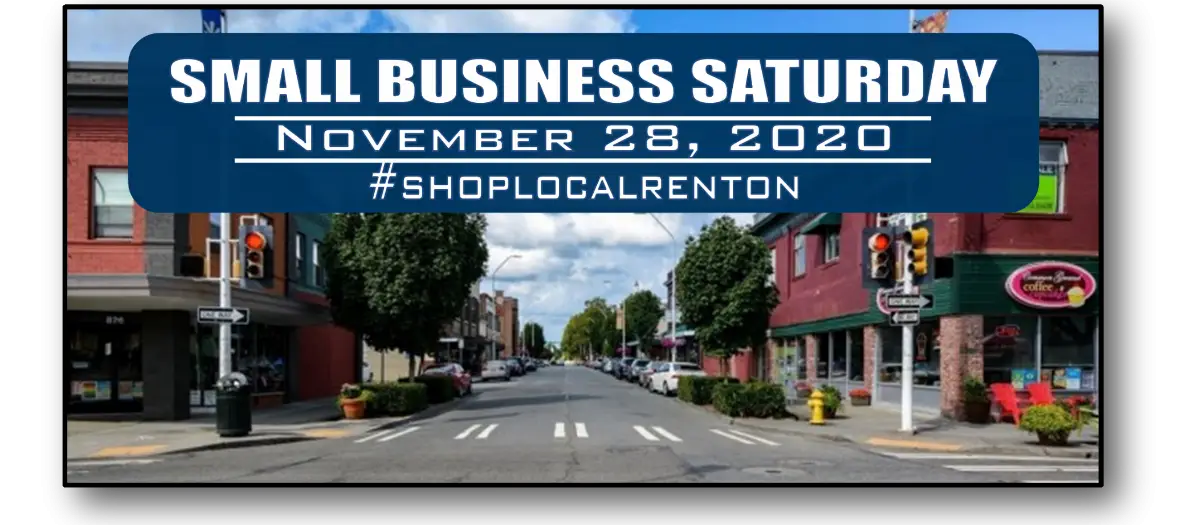 Small Business Saturday
by Mary Clymer on
November 27, 2020
Stand BIG with Small!
Ten years ago an idea was hatched. American Express started Small Business Saturday that happens nationally the Saturday after Thanksgiving. (Hey that's tomorrow! Nov. 28th.)
It has become a nationwide opportunity to encourage communities to keep their dollars local.
This event has grown bigger every year and in 2020 it is paramount.
The idea is a counteroffer to the big box stores outbidding one another for Black Friday. It's your opportunity to walk into one of our local gems and purchase something special for the holidays.
If there was ever a need to drum up business for local merchants, 2020 is the year. With so many small businesses struggling to survive and compete against the big chain stores, Small Business Saturday is an annual reminder to focus on keeping it local.
One of the great offerings of 2020 has been the opportunity to focus on what really matters. Our local Renton community has come together in many ways to show support. Small Business Saturday is just one more way you can give back.
The Choice is yours
The support you show now to the local retailers and restaurants helps bring needed attention in a season that can make or break a business.
This weekend marks the start of the Christmas shopping season. When you decide to spend your money in your local community big change starts to happen. Instead of vanishing storefronts, you begin to see more places open. Purchasing a gift certificate at a local business for food or merchandise could make the needed difference for many local retailers.
Think of all the connections you have made through the years shopping locally. The employees are your neighbors and friends. Watching someone you know grow their small business. It's the American dream! When you commit to spending your money in those businesses you are helping someone live their dream. Without them, a part of our community is lost.
Big Box Culture
You know that feeling you get when you visit a new city or town and you want to dive into the local culture but all you see is the same name brand restaurants and retailers you get back home? That is what happens when a community doesn't support local business. Local business goes away along with the unique feel of a community. Driving money out of the community instead of keeping it circulating locally.
The change starts with you.
Small business relies solely on its unique name and reputation. Meaning people go there because of the quality and experience. Supporting a local business really does put your money right back into the community. It keeps you in touch with what's happening around you. It supports the business owner and its employees, who in turn, go out and support other local businesses. It's how the cycle works.
You have the power to support your neighborhood and make it the kind of place you are excited about.
Renton is lucky because we have so many great local places to choose from. Very few have had the opportunity to be open during this pandemic, and need your support more now than ever.
I refer back to the 3/50 project. A program that started in 2009 breaks down what happens to the money you spend.
It's easily put this way…
When you commit to spending $50 locally each month that money goes right back into the community. When you spend it at a big chain store only about half of those funds stay local, and when you purchase online none of that money returns to your community.
$50 a month is not much.
One haircut

Two to-go orders

Three Growlers

Four sessions with a local trainer

Five $10 gift cards
Things you are already purchasing can have a big impact when you do it locally.
Tree lighting
The annual tree lighting at the Piazza Park will happen as it always does on the evening of Small Business Saturday. What you won't see are crowds gathered or visits with Santa, but it still symbolizes hope for our downtown business community.
The Renton Downtown Partnership is busy putting together free goodie bags that will be handed out to any customer who spends $10 or more with our downtown merchants. You can grab yours starting tomorrow and throughout the holiday shopping season while supplies last.
Free goodie bags include fun treats, coupons, and other promotional material to bring attention to all our businesses.

The idea is to show support not only during the holiday season but year-round. These dedicated workers are doing all they can to keep you safe and healthy. Please be patient with them and respect any restrictions or customer limits they are following. No doubt you will receive the best customer experience to overshine any minor inconveniences of the pandemic.
Check your favorite local hot spots to find out if they are offering curbside pick-up or have any fun promotions. Many have moved their platform online to make it easier for you to spend. Be sure to check out their sites for Small Business Saturday, Cyber Monday, and all season long.
The Renton Chamber encourages you to post a picture of yourself supporting a local business on your social media page all December long.
Don't know where to find local deals?
Check out the new Shop Local Renton Facebook page. It's full of locals discussing their favorite places and small businesses posting fun happenings from the store.
You are the biggest factor in helping our local economy thrive.
Your photos #smallbusinesspride, #keepingitlocal, #localrenton, or whatever you call it could be the difference. Others will see you out there making a difference with your dollars and they will be prompted to do the same.
None of us know what the future may bring, but you do have the choice to funnel your hard-earned dollars back into the businesses you love.
As you count your blessings this year please take a moment and spread some love to your local economy. Share with us in the comment section or on our Facebook page what your favorite local businesses are. We want to help share in your excitement and be a voice for getting their unique services out to the entire community.
back