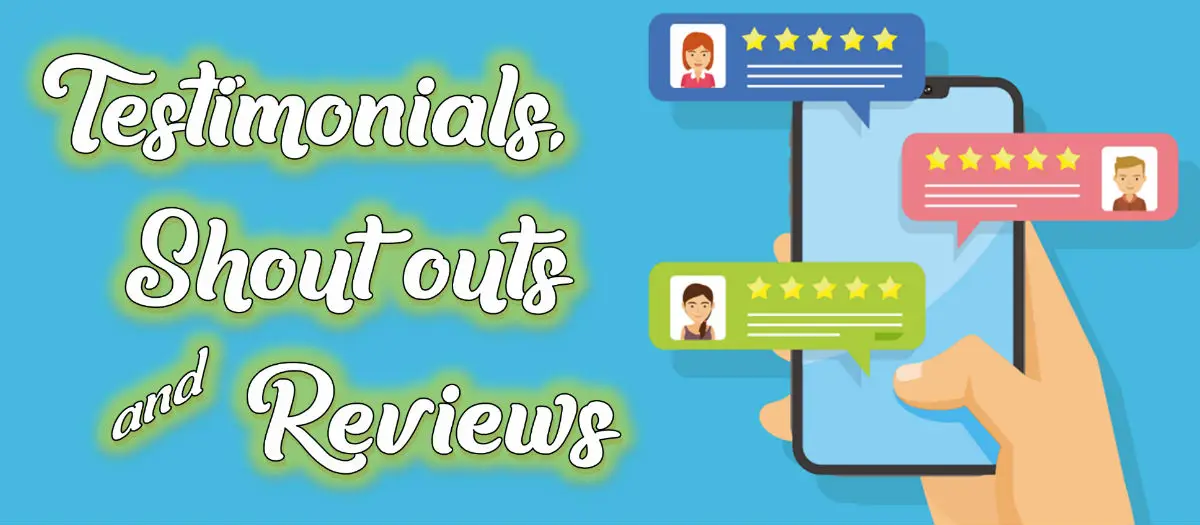 Testimonials, Shout Outs, and Reviews
by Mary Clymer on
December 11, 2020
Testimonials, Shout outs, and Reviews
Five reasons you should consider doing one.
It's said that if someone has a negative experience with your business they will tell an average of 10 people about it, but if they have a good experience they might tell three people, and often that is only when prompted.
Apps like Yelp have made it easier to spread the wildfire of your enraged moment. This can hurt a small business and should be immediately addressed. That same angry customer could have five other great encounters and never say a thing.
That is why it's so important to remember to spread the word about your good experiences.
Small businesses benefit the most from your positive testimonials. It becomes a peer to peer experience every time you decide to post on social media. Your latest find at Sparkle, or your current beer crush at The Local 907 are things to be shared.
When you take time to review what you love a domino effect begins to happen.
Listed below are five reasons why you should consider writing a testimonial, review a restaurant, or shout out to your favorite local gems.

1. Word of Mouth is Powerful
Hearing about an experience your friend had at a local business immediately gives that business more credibility. Your social network trusts you. They know a little bit about you and know the kinds of places you go and the experiences you attract. This is why a review from you holds more weight than any other comment or review you've heard.
When you have something good to say, say it! It will give you a boost for supporting locals and will make the business feel good too. In turn, you will feel more invested in that business and they will feel more invested in you.
Other customers will probably mention that they heard about the place from you or one of our awesome online community resources Facebook groups like, I heart Renton, or Shop local Renton
2. It's Extremely Helpful
When you visit another city you probably hop onto yelp to see what the locals are saying. True, you may not read the reviews, but you look at the stars. And we all know more stars are better.
It's also helpful if you're trying to purchase something online. When a review for a bra bought at The Pencil Test says "loved it, a perfect fit!" that's great, but it's not giving me too much information. If the review instead said, "I'm 5'6, 115 pounds and I bought the medium which fits me perfectly and I love it", now I'm getting something useful. I now understand the size chart better.
It Shows Local Support
I love scrolling through my feed to see friends and family members posting pictures of themselves around town. Checking in at The Renton Printery, or posting a girls date photo of themselves at CK Nail.
It gives you pride in your community when you see others acknowledging pride in the community.
When we see a local business getting positive reviews we are more likely to purchase from them. Social proof is in the pudding and can have a clear impact on sales.
Jeff Lawerence, owner of the Whistle Stop Ale House is incredibly good at posting photos of himself out supporting other small businesses in the community. It makes you want to go support his business even more.
4. It Builds Trust
Many small businesses have built up their business on word of mouth. It builds trust. I'm not going to send my friends and family to a place I don't like, would you? No. Places like the Melrose Steakhouse have built trust with their audience almost 100% through word of mouth in the forms of reviews, testimonials, and social media posts.
A business can significantly build trust and credibility when it has a stream of positive reviews.
Most people searching for a business won't even consider looking at anything that rates less than 4 stars on yelp. And for a business that doesn't get reviewed much, one bad review could bring them down.
At the end of the day customers that post positive reviews help the footprint of a small business get their name out to the world.
5. Help with Decision Making
This one is two-fold.
Reviews help a business to see what they are doing right and what they can improve on.

Reviews help others to decide on where they're headed.
If a review says "great atmosphere and cocktails" when you're looking for cozy comfort food dining you might pass. Another review might say "small food portions" and that's exactly what you had in mind. Great!
Two-thirds of online shoppers will base their purchase on the reviews.
That's huge! Especially in a year when so many small businesses are scrambling to get online just to stay alive.
You Can Make A Difference.
People love to be on the inside track. They like to be where the action is and they like to support the businesses that make a community strong.
This holiday season it is essential that we support our local economy in every way possible. Purchasing from a small business is wonderful, but adding a review, or social media shoutout is better. It puts a reminder to stay local right in the palm of everyone's hands.
It takes only a moment to help spread some holiday cheer to all our local businesses now and throughout the year. I've worked for many local small businesses and I know first hand how valuable a good review is. Seeing friends and family check-in at your location hits a business owner right in the feels. It's an easy way to pass along a great experience.
Let us know on social media where you're shopping this holiday season. Where do you always get the best customer service? We want to share in your excitement.
Check out https://www.gorenton.com/shop-local-renton.html for ways to win big by supporting local this holiday season.
And don't forget the Renton Chamber. We need reviews too. Let us know how we're doing and share that experience with your friends.
Renton Chabmer of Commerce
GOOGLE LINKS
Read Reviews on Google
Leave a Review on Google
back