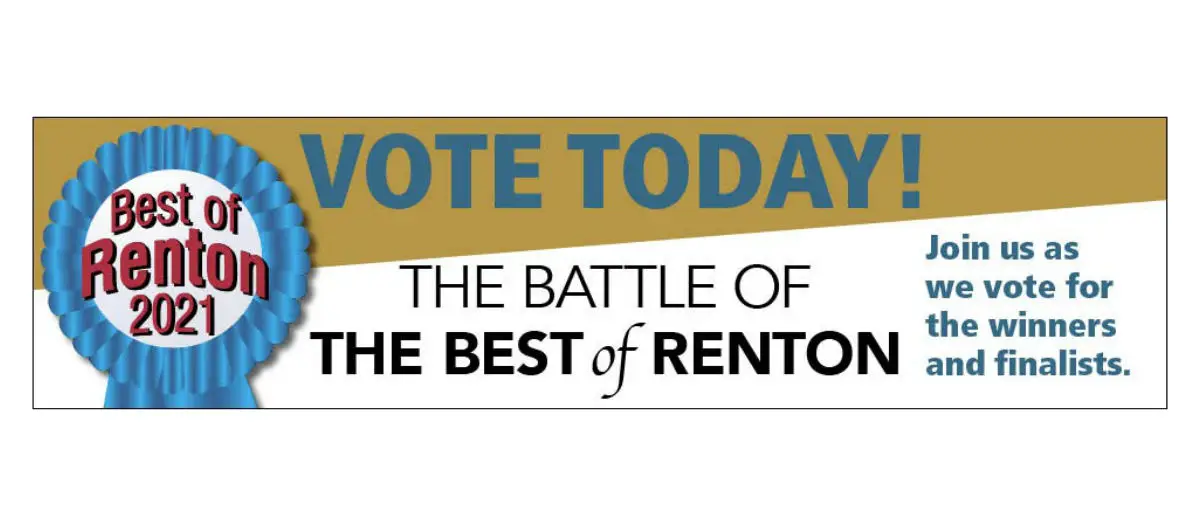 The Battle of the Best of Renton
by Mary Clymer on
November 21, 2020
Vote For Your Favorites Today!
Last Sunday (Nov. 15) Governor Jay Inslee announced a "Third Wave" of COVID-19 soaring through our community. Rolling back our current restrictions until Dec. 14. This means no indoor gatherings of more than five people.
Once again the businesses that make up our community are being forced to close. Leaving some struggling businesses empty during a season when they typically do a majority of their business.
These new guidelines come at a time when family is used to traveling long distances to be together and memories are made along with mashed potatoes and apple pie.
We understand that these restrictions are necessary for the sake of all our public health. We should also remember how hard this season will be for the families of the nearly 2,600 Washingtonians who have lost their lives this year because of Coronavirus.
We separate now so we can be sure we are all healthy and alive when we come together once again.
This is why voting for your favorite Renton businesses is more important than ever.
We all need some good news
Small businesses are struggling to stay alive. It was wonderful to get out and see our friends at these cherished local favorites over the last month, but now we must retreat once more.
But you can still show your love and appreciation by taking the five minutes to vote online now through Dec. 31.
Boost the morale of these businesses. Let them know you care.
Everything from Community Services to Restaurants are on the ballot.
The Renton Chamber is excited to celebrate the people and businesses that have stayed optimistic despite the challenges.
We can all agree that 2020 has been a year for the books. The one thing that remains certain in these challenging times is our community coming together.
It's time to pour that community love into the Best of Renton. Each category will see a gold, silver, and bronze level winner.
You can raise the spirit of a local business in need by casting your vote.
Think about your favorite non-profit that makes a living out of giving back. Now you can give them the recognition they so deserve. The same goes for your favorite elected officials who are making hard and necessary decisions that impact all of Renton citizens. Don't forget the place that always welcomes you with impeccable customer service! They deserve love too.
How about a vet? Taking care of your fur baby year after year, or your tax advisor who has an interesting year of tax work ahead.
We are headed into the holidays and we all have go-to retail shops that help us find the perfect gift. Then there are all the cannabis shops in town that have been helping us calm our nerves during the stressful ups and downs of the year.
Restaurants and bars are closed for indoor services, but remember how accommodating they have been with your to-go orders. Overnight they have learned to create new ways of serving you. Everything from our beloved coffee stops to our favorite family dining destination are up for a vote.
Gyms and Daycares are closed for our safety, but you can still vote for them. Realizing now more than ever how valuable those services were to your sanity.
If we can get everyone on board, and continue to pressure our federal government for more universal practices then we can see openings by Christmas. A time special in the hearts of so many.
Come 2021 we can hopefully take a deep exhale of relief. Then we can look back on all our favorite local people and places in our community and know that we all did our part. Ensuring their survival by voting, shopping, dining, and showing local support whenever possible.
There are so many great people and places to celebrate right here in our Renton community. Now is your time to vote for them now.
The Best of Renton is a long-held tradition between the Renton Reporter and the Renton Chamber of Commerce. Because of the challenges of the year we almost missed out on this celebration of local flavor. It may be later in the year, but I would argue that it's the most important year to get out and support.
Head over to the Renton Reporter website to see the list and add your own.
back