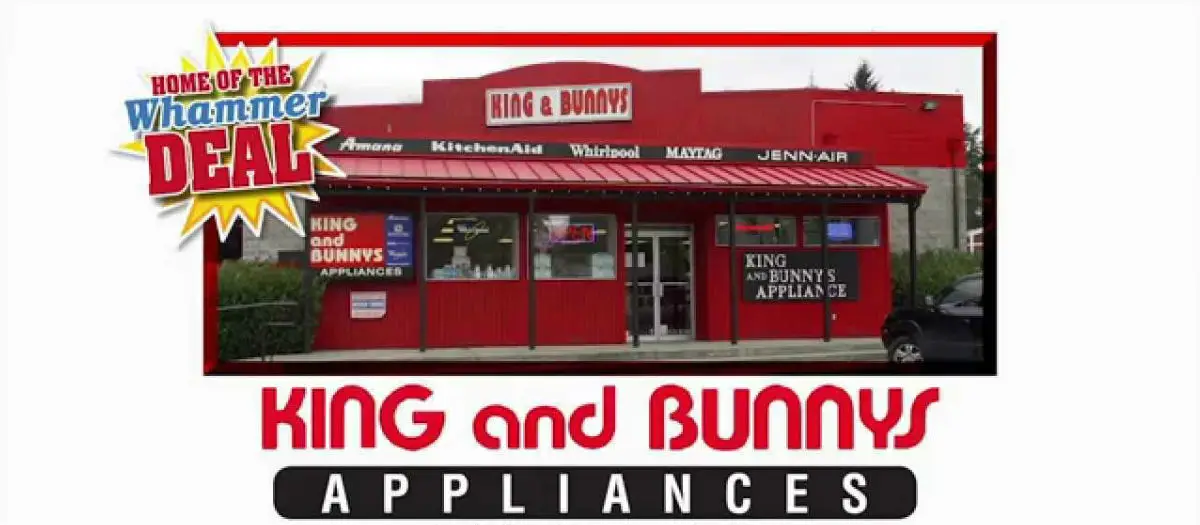 The Legacy of a King!
by Mary Clymer on
July 21, 2020
King and Bunny's Whammer of a Deal!
King and Bunny's Appliances is the kind of place that people mention when they talk fondly about Renton. Often appearing on the "You know you're from Renton if" facebook page. Located in the Renton Highlands, is the expansive warehouse and retailer that has been around for more than 30 years.
Opening the doors to the original 600 square foot portable building in July of 1982, the family owned business still continues its legacy today. For a business that sells a range of appliances from fridges to dishwashers you can imagine how fast 600 square feet fills up. In the early days the showroom displayed only six basic white floor models and a few catalogs. They invested in a beat up delivery truck and King himself would bring your new appliance to your door.
The Business Grows
From those humble beginnings, together King and Bunny grew into a multi-million dollar business. Now prominently located on the busy intersection of Sunset Blvd and Duvall Ave. This 3,200 square foot showroom features more than 200 major home appliances, that are all available for immediate delivery. Although King, who passed away in 2017, will no longer be delivering your new appliance, one of their dedicated staff will. Staff is family at King and Bunny's. It has always been an important value to the company.
King Parker, a true Renton icon, dedicated his life to our community. Volunteering at many events and for many organizations. King served on the Renton City Council for 16 years, and was a fixture in the community. He gave generously, and from the heart. A trait both he and his wife Bunny shared. People were attracted to the warm demeanor of both King and Bunny and that attributed to their success.
Born to the World of Appliances
Jason Parker grew up watching both the community and business efforts his parents took on. Raised in an environment that used laughter and humility to work through tough times. And tough times were there. The way people shop and do business has changed over the past four decades, and King and Bunny's weathered that storm through constant undying dedication. They continued on through the death of a son, and dove deeper into the community.
Today their son Jason runs the store. Just like his Dad, you will always find Jason hard at work and dedicated to his customers, while maintaining a commitment to this community.
This Renton legacy is a member of an increasingly dying business model. With nationwide name brand chains, and more and more consumers headed online for purchases, locally owned multi-generational businesses are becoming a thing of the past. Another reason why this business is so special. Old institutions are disappearing, and more and more of us are seeking out ways to support and stay connected with what is unique to our community, and what binds us to our past.
The Future Looks Bright
Jason continues, not down the path of his parents, but in his own direction. He uses his own vibrant smile and laid back feel to forge his own way. He had a great model put in place for him. One that showed him the importance of community. A model that helped him develop his own way of approaching life and how to connect in business.
Today Jason is helping store food for local charity, South King County Food Fighters in many of the showrooms models. He's involved with the Renton Chamber of Commerce, and makes any event he's at a fun place to be. King and Bunny demonstrated guidance of what a successful well-balanced life looks like. This is a legacy bigger than any appliance store.
When you head into King and Bunny's today you will feel cared for in a way that is virtually unheard of. The staff feels like family, and your needs will be heard. The store has grown and adapted to change, and even though you won't be greeted by King's warm smile, you can be sure that you still get a whammer of a deal!

Hometown Flavor
Everyday we see our economy working more and more on a global level, making it harder for local business to survive. Add on a crisis like where we find ourselves today, and you begin to see just how valuable local commerce is. When times are hard we rely on our local community for support.
Businesses like King and Bunny's Appliances are so important because they help us preserve a bridge to our past. It is so important, as our Renton Community continues to grow and develop, that we remember who helped form the community we love so dearly today. Our past cannot be forgotten, and businesses that leave a legacy in our community, like King and Bunny's, reminds us of our roots. Reminds us that there's room for the little guy. That the experience of shopping and supporting people from the neighborhood is still very much a part of the American dream alive today.
back