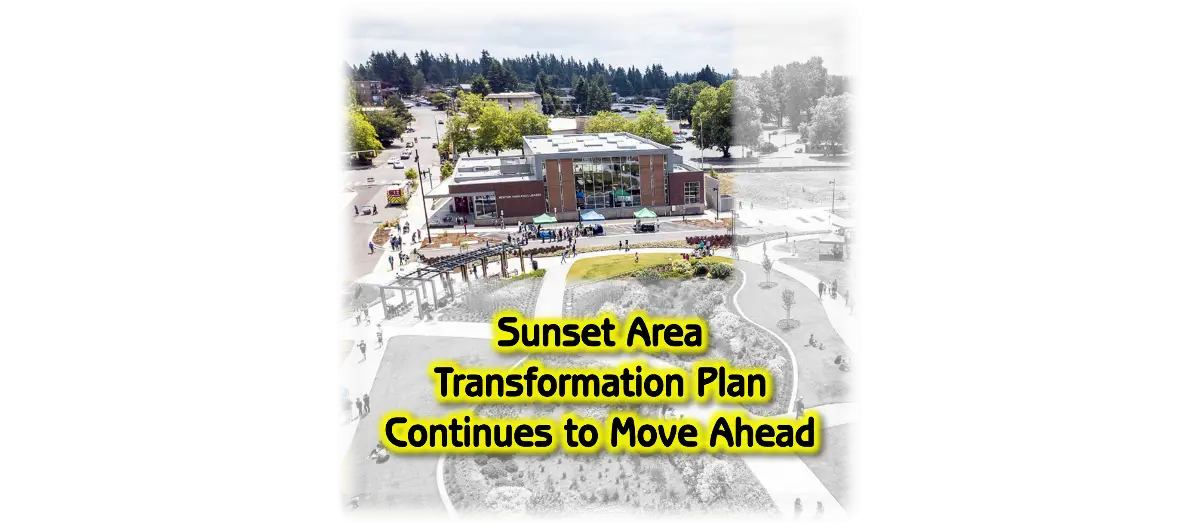 The Sunset Area Transformation Plan Continues to Move Ahead
by Mary Clymer on
December 22, 2020
More Wins in the Steady Climb Towards Renovation
The Renton Highlands is getting a remodel. It's been slow and bumpy but new development is on the way.
The Transformation plan started years ago when KCLS took control of our local libraries. Building a new library right on Sunset that provided easy access to those traveling by bus.
Right next door and directly behind, the City of Renton has been hard at work completing phase two of the Sunset Neighborhood Park. Playground equipment that can be seen from space (I just made that up, by seriously it's HUGE!) and a new public art piece has been installed.

It's exciting to drive by and see all the work being done to help develop this once dusty area into something fresh.
The bigger issue on everyone's mind is the dilapidated Hi-Lands Shopping Center. The former home to the Tea Palace and Hancock Fabrics handed out mass eviction notices back in 2018 with the intent of a new developer taking over and uplifting the space.
Well here we are two years later and the Hi-Land Shopping Center continues to be an eyesore to all who pass.
So what is happening to this outdated shopping center?
After months of back and forth negotiations, a new developer was finally named. The 11-acre development will be transformed by the Solera Project. The project will feature upwards of 700 residential units, commercial space, and a daycare.
This is just the latest development in a long line of this now 15-year project. The Meadow Crest Playground and Sunset Fence Project are two examples of other ways the city has invested in the neighborhood.
Quick wins compared to this huge investment. One that will fill the city's vision and completely change the feel of Sunset Blvd.
Although there are many areas of the Highland neighborhood where residents are doing just fine, this particular area is home to many residents living under the poverty line. They lack access to resources many of us take for granted.
By creating a walkable environment where residents have access to the bus line and local resources were key in creating an engaging environment for all who live there.
This has been a concern for many of the low-income homeowners who watched as a large section of affordable housing was demolished to build the KCLS library and the in-progress Sunset Neighborhood Park.
The Renton Housing Authority is located right in the neighborhood and is a key partner on this project. Their involvement helps establish confidence that the needs of the residence are being heard. There has been so much gentrification in our area and the Renton Housing Authority wants to make sure our residents don't become another statistic.
Other concerns in the neighborhood are overcrowding and traffic. It's one of the reasons the project proposed a pedestrian layout. Sidewalks will be developed and maintained by the developer.
The new development is looking to create space between the building and the busy roads as a way to encourage walking safely to and from your destination.
Principal Partners
A network of five principal partners are currently working on this transformation.
Big Wins and Needed Resources
The old site of the Renton Highlands Library has reopened as a Multi-Service and Career Development Center.
The building was purchased by the Renton Housing Authority and was renovated into a multi-service agency based on the needs of the neighborhood. Working with Neighborhood House, funds were put towards improving the quality of life for the residents in the Sunset neighborhood.
The facility opened earlier this fall and is run by Health Point. It has been busy providing social and community services to the highlands community.
The future of this facility will provide
Low to no-cost medical and dental checkups

Child and adult education and career development

Family Counseling

Citizenship and ESL classes

Provide spaces for community events
Even in a time of COVID this needed resource was open. The City of Renton and multiple organization leaders stood proud at the opening. Ensuring a sustainable asset for the community is good for the low-income residence of Sunset and good news for all of Renton.
A healthy community is a thriving community.
Many low-income residents don't have the time or resources to go find the help they need. The Multi-Service and Career Development Center puts those resources right in their own backyard. In a time we could all use a little extra care this facility opened with much support.
It's the season of compassion. A time when we put our differences aside to shower our community with love. We are lucky here in Renton to see signs of growth all around us. Reminding us all of the strength of this community and how we raise the boat for all.
I encourage you to check out what's happening in the Sunset neighborhood and get involved. On the website, you will see a list of projects already complete and opportunities for future needs. It all involved community input, and voices are needed. The only way we can create a community that we can all be proud of is to get involved.
Let us here at the Renton Chamber know what types of things you look forward to seeing as this project continues to develop.
back