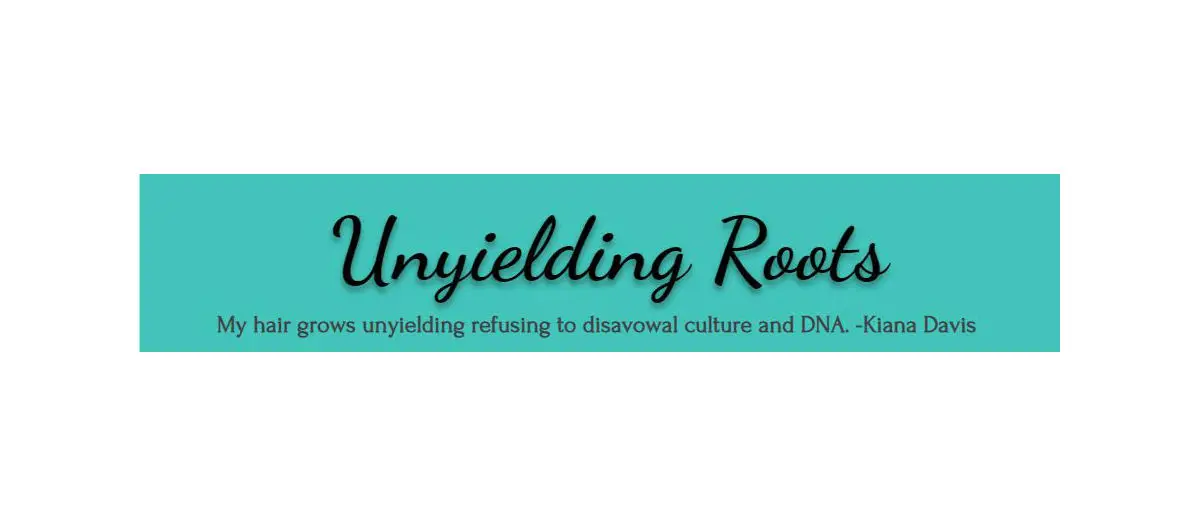 Unyielding Roots
by Mary Clymer on
August 28, 2020
Unyielding Roots
How Hair Culture has Us Braided through Time
Kiana Davis is a teacher, poet, and activist. Her current project, Unyielding Roots, is a journey through our cultural connection to hair.
"It's all about connection," says Kiana. "There is a history behind hair. The cultural symbolism of it." The question she is posing is this.
Why are some cultures policed because of their hair?
Bullying, Control, and Dehumanization
As a teacher, Kiana is happy when her students show up to class. She knows there is a lot going on in families and in the world. When a student shows up it's a win. A win just to have their dedication to the class. Now imagine showing up to school and being told you cannot come back until you change your hair. When is it okay for hair policy to be bigger than education?
This is happening now.
This is not a thing of the past.
Kiana asked if I've ever had a bad hair day?
Of course, who hasn't?
Now imagine your whole life is a bad hair day.
I can't. It's too devastating.
She explained that for many this is a reality. Whether it be not knowing how to manage your own hair, or avoiding certain communities or social settings. All because on some level you know your hair is unacceptable. And not because you haven't taken the time to look presentable, but because of the very nature of your hair.
Having a candid conversation is where the connection starts. Understanding that a black woman spends upwards of 8 hours and hundreds of dollars to get her hair done. Braiding her hair so she can focus on her job instead of worrying about how to manage her hair. Giving her relief for the next eight months.
Kiana reminds us of those hair policies all stem back to bullying.
What's considered professional is a system of control.
This is an example of using social standards to make someone feel bad about who they are, and then turning around and capitalizing on it.
"I'm not trying to make people mad. I know it's not their fault," says Kiana.
But it's a reality. Knowing it, and connecting with it, means we as a whole have the responsibility to grow and learn from it.
Kiana's unyielding
In 2008 Kiana got a relaxer put into her hair. A product used by thousands of black women throughout the world to help manage their hair. It was during this time that Kiana realized she didn't know how to manage her own natural hair.
Her Mom had a process for keeping Kiana's hair under control. Sharing with me the memory of hot iron running through her hair.
She began to understand that her natural hair was not interested in yielding to her needs.
Her hair did not care about the style she was trying to maintain.
Her hair had other plans and was unyielding.
Once she realized she had a story to tell, Kiana began connecting with others through a series of workshops, grants, and experimental projects.
Recalling a workshop she did in Shoreline where a balding white man approached her after.
He came not thinking he would feel so strongly connected to the message.
He left with an understanding of how hair is tied to our identity.
Pain, Beauty, Love, and Layers
Hair is a symbol in many cultures and religions.
The Native Americans believed your hair was your connection to heaven.
It's a status symbol.
In many cultures cutting your hair is a disgrace.
Even among men and women, there are cultural norms to what is acceptable.
Kiana is looking to collect these tales.
Black Hair Products
Last year alone African Americas spent $1.2 trillion on hair products.
This is remarkable considering that two short years ago in 2018 the Black hair care industry only made $2.5 Billion.
Why the Change?
Because Black consumers have been progressively making a switch to products specifically catered to them.
Black Beauty entrepreneurs have been popping up and leading this huge industry. And with this new growth attention is being spread about the unique hair needs of the black community.
Through connection, we grow.
Kiana is collecting stories right now for Unyielding Roots. A heritage art grant she applied for through 4Culture. Her hope is that these stories connect us. Hair is a part of our identity.
Kiana jokes that she's making this project up as she goes along.
But really what I see is a leader who doesn't want to guide your story.
She wants to sit in the passenger seat and let you take the lead.
Realizing that so many people feel uncomfortable writing or don't know where to start, she has started a newsletter. When you sign up you will have access to guides and activities to help get the conversation moving.
Kiana is a teacher at Renton Technical College, and is one of our Ahead of the Class Finalists for 2020! Her passion for being active in the shaping of young minds was clear after just thirty minutes on zoom.
She has collected stories and poems from youth to adults. Creating books and messaging that speaks to her. Paving the way for young people. She understands that she has an opportunity to help others not feel alone or isolated because of their experiences.
Kiana is very active in expressing her voice through the voice of many. She is still unclear how this project will be compiled. It all depends on who shows up, and what stories they share.
Kiana has a goal. Her goal is to reach everyone through our connection to hair. We all have a story to tell, and Kiana is here to braid our culture of hair together. Telling the unyielding story that binds us through time.

---
Do you have something going on that the community should know about?
Need help getting the information out to the people?
Contact Mary Clymer about ways the Chamber Blog, The Renton Junction, can help.
Think of it as your online resource for what's happening in Renton.
It's one of the perks of being a member.
We want to help bring the community to you.
Tell us how we can help through the Blog.
Email me your ideas at happydelusions@yahoo.com
Looking for even more exposure? Advertise on The Renton Junction Blog!
Contact the Chamber to find out how.
back