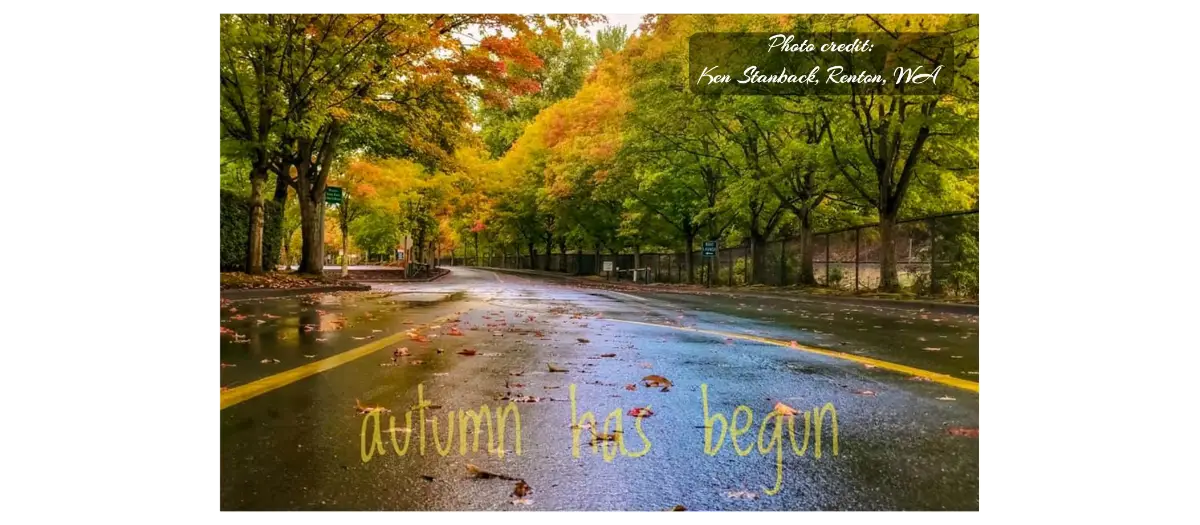 Welcome October!
by Mary Clymer on
October 2, 2020
Fall Guide to Staying Active
Don't you just love the fall? The changing of the leaves, the familiar warmth of an oversized sweater, cozy nights curled up with a good book, delicious comfort foods, and the relaxing sound of rain falling on your window sil.
Fall is also a great time to pull out the raincoat and take advantage of some daylight while we still have it.
Even in a time of Covid, there are a ton of fall activities you can do at a comfortable social distance.
Below is a list of fall activities right here in Renton. Many of them are free to do, and all of them are designed to keep you active so you and yours stay healthy and safe.
So bundle up the family or call someone in your Covid circle and bring some adventure to your life.
Salmon on the Cedar
The Cedar River round right through our downtown and is lovely this time of year. There are a couple of great spots you can go to watch the salmon as they fight against the current and time to spawn their eggs.
You can part at the Renton Memorial Stadium and head down the River. Walking along the Cedar from the Renton Senior Activity Center to the downtown KCLS library is a wonderful fall activity. Be sure to head up at each bridge to get the birds eye view from right over the River.
Cedar River Park which is behind the Renton Community Center is another great spot to see nature take its course.
KCLS Scary Books and Surprises
Once you hit the downtown KCLS historic building that lays over the river be sure to head over to their curbside pickup area and ask for a surprise bag of scary books. Tell them what age demographic you are interested in and they will send you home with spooking stories to curl up with.
KCLS is also hosting a Scary Story Contest and is continuing with their crafter noon activities. Offering some spooky crafts to entertain young and old alike.
Getting Batty
Speaking of Spooky crafts. Wyldwood Creative in downtown is hosting a fun Halloween embroidery workshop. Practice your embroidery skills by creating 2 bat kits.
This is great for beginners and anyone looking for a fun activity to do with a friend. Your registration gets you two workshop kits. If you register by October 18 you can have your kits mailed right to your door. The zoom in on October 24th for live instruction and fun.
Olde Fashioned Halloween Trick or Treat
It's hard to think of October without mentioning the spooky. Halloween, like all holidays, will look a little different this year. The Renton Downtown Partnership is organizing a scavenger hunt to keep the Annual Olde Fashioned Halloween party alive.
From October 24 through October 31 a treasure map game card will be made available on their website. Leading pirates, witches, and little goblins around the downtown area to find clues. Clues places in storefront windows providing a contact free way of participating in some Halloween fun.
On Saturday, October 31 between 1pm and 6pm, local mermaids, zombies, and cheerleaders can drop off their completed game card at Tonkin Park to pick up their pre-packaged goodie bags.
Food trucks and photo opts will replace the event that brought over 600 families into downtown last year.
BLM Art Walk
While your downtown check out the black lives matter themed art walk. Support local Black artists as you walk around downtown Renton, or check out the virtual tour on the Visit Renton App.
Then head into Wyldwood Creative to pick up a FREE BLM embroidery kit. Your finished embroidery piece can be returned there to be added to a woven community tapestry.
Carve a Pumpkin
There are so many pumpkin patches and corn mazes in our area to check out. Or if you aren't quite ready for the crowds, head up to Top of the Hill Produce to pick up a locally grown pumpkin to carve up.
While you're there pick up some local seasoning to use on the delicious pumpkin seeds you can roast.
Pumpkin Flavor
Like it or loathe it. Fall is at time for pumpkin flavor. While you're in the Highlands neighborhood be sure to swing into our famous local donut shop, Chuck's Donuts. They have seasonal delights perfect for any occasion.
If you prefer cupcakes, then head down to Common Grounds and try one of their pumpkin spice cupcakes. Add on a pumpkin spice latte, or a hot caramel apple cider. All your favorite coffee houses like Liberty Cafe, Refuel Cafe, and Boon Boona are also stocked with these warm fall flavors.
If you're more of a beer drinker, step in to any of our local bars or eateries like Bickersons Brewhouse, Dubtown, Four Generals, Brewmasters Taproom, Whistle Stop Ale House or the Local 907 to fill up your growler with a pumpkin beer. All these amazing local businesses rotate a great selection of local seasonal beer on tap.
Make a Lasting Memory
2020 is definitely one for the books. Why not head in to Handsome Devil Ink, White Rhino Collective, or Idolize Tattoo for a spooky tattoo. If piercings are more your thing then Naomi over at Obelisk Body Piercing is the place to go. Why not make a lasting memory from a monumental year.
Autumn Walks
My favorite time to get out in nature is fall. The changing of the leaves bring so much joy to my heart. There is no better place in renton to enjoy this than a trip to beautiful Coulon Beach Park. Travel down the tree lined drive into the park is nothing less than stunning.
Another great place to catch all the color is along the Cedar River Trail. You will be surrounded by falling leafs and feel like the city is miles away. This is a great place to take your thoughts for a walk or bike through the breeze with a friend. Be aware of joggers, and young explorers as this is a busy trail.
Renton has so much to offer and we at the Renton Chamber want to know what your favorite fall activities are.
back