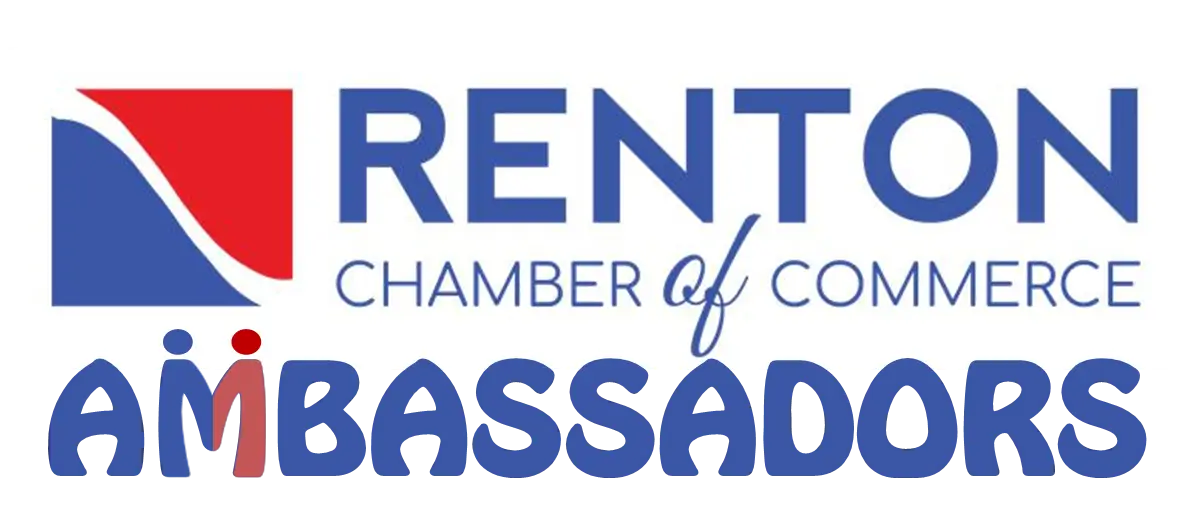 Who Are the Chamber Ambassadors?
by Mary Clymer on
September 4, 2020
... and why you should become one!
The main function of the Chamber Ambassadors is to help promote the Chamber. There is a wide variety of ways this can be done. The duties performed by Ambassadors are designed to help make Chamber events more enjoyable and fun for everyone. This special group of volunteers uses their time to support other businesses in the community.
Ever wonder what it takes to step your business up to the next level through the awesome power of networking?
Consider becoming an Ambassador.
Ambassadors wear many hats volunteering with the Chamber
They can make even the most introverted person in the room feel welcome with their engaging, proactive, and lively personality.

Enjoy having a good time in a professional environment.

Projects a positive image towards the Chamber

Encourages other businesses to join the Chamber

Has the confidence to make personal contact with any Chamber member

Willing to volunteer a couple of hours a month

Participate at monthly Ambassador meetings

Attend Chamber ribbon cuttings, grand openings, programs, and other events

Assist with member retention

Welcome new Chamber members and introduce them to other members
Ambassadors have a broad knowledge of the Chamber. They work closely with our staff and committees. As an Ambassador you might be the first face a new chamber member sees. You get to help welcome them aboard and show them effective ways to use their membership. You get the opportunity to invite and welcome new members to events and encourage them to share their own knowledge with the group.
There are a ton of benefits for volunteering as well
It's another way your Chamber membership works for you.

Provides more opportunity to connect one-on-one with new and existing Chamber Members.

Opportunities to meet local business and community leaders

Potential media coverage from attendance at Chamber events

Gain an insider's perspective of the local business community

Chance to help the community and show community pride.
Ambassadors get involved because they understand that the people you meet at Chamber events could become your biggest client tomorrow.
Why You Should consider becoming an Ambassador
I know what you're thinking. This sounds great, but you just don't have the time. You are spending all your days within the walls of your own business and sometimes it's a struggle to get out in time for anything. You like the idea of volunteering, but it doesn't feel like an option.
You are right. Acting as an ambassador can be a time commitment.
Let's break down some options, see if it's a good fit.

1.
You get direct access to chamber members
One of the great things about this program is you can do so much reaching out without leaving your desk. You have access to new and current members.
A friendly email reaching out may be the start of a beautiful relationship.
Chamber Ambassador Gary Palmer, Owner of Star Photographic Services, can be seen at nearly every event in Renton. From behind his camera, he's capturing these moments and making direct connections with all who attend.
Great ice breaker
Sometimes it's hard to find the right way to introduce yourself to other businesses. It might feel forced or ingenuine. Approaching another business with a common thread of helping each other to grow is a great way to say hello without it feeling like a sales call.
Chamber Ambassador Charlie Schmidt DBA with Legal Shield, has the opportunity to break the ice with potential customers by helping them feel more at ease in our Renton Community instead of jumping into his business angle.
Great for referrals
Because you are at the forefront of what's happening in your community, you will naturally come to others' minds when a referral is needed. As a general note, active ambassadors receive a higher level of word of mouth referrals. They are also more likely to get business from other fellow members.
Chamber Ambassador Liz DeSmith, A real estate agent on Rosie Rourke Team for John L Scott knows that her whole business is built on referrals. What better way to referrals than to be involved in your community.
The Renton Chamber of Commerce holds an Ambassadors meeting once a month. They discuss events, membership growth, ideas, and community. These meetings are a great opportunity to get involved with some of the more active chamber members.
Who is eligible to be an Ambassador for the Chamber?
Anyone who is interested in getting involved, and becoming somewhat of a meeter and greeter for the Chamber should contact Diane Dobson, Renton Chamber CEO for more information.
Now that you know a little bit more it's time to reach out. If you are tired of waiting for people to find your business in the sea of online options, then it's time to up your game. There is great power from giving back time to your community. You will spend your time volunteering directly with the movers and shakers of our great city. Giving you a foot in the door.
Why Now is the Perfect time to Step into this Role
Currently the Renton Chamber is helping their local business community by handing out PPE materials to help all stay safe. With a continued effort to connect to all businesses in their network. Reminding all that there is support and helping connect them to those resources.
Now, perhaps more than ever, is the time to show your community how you are not only an outstanding business owner who performs above and beyond. But also that you stepped up to help others during a great time of need.
The Decision is Obvious
Deciding to become an Ambassador for the Renton Chamber is a great way to engage with the business community. If you are looking for high visibility volunteering with an outstanding group of business owners, who provide a crucial link between the community and chamber members, then this is the avenue for you. The passion Ambassadors bring to the table not only benefits our organization, but it also provides exposure to your own business as well.
What are you doing to create a lasting impact on your community?
back