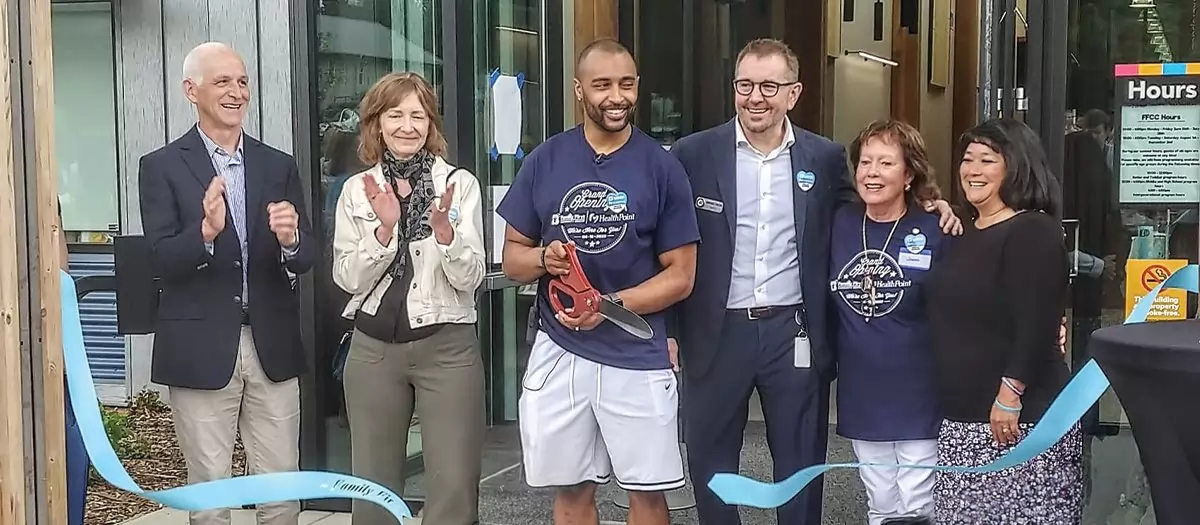 Family First Community Center opens in Renton
by Chamber Staff on
November 1, 2023
On June 26, 2023, the Family First Community Center (FFCC) officially opened its doors to the community in Renton's Benson Hill/Cascade neighborhood. Nearly 200 community members joined us on our first day, confirming the FFCC as a much-needed and welcoming gathering space. With the doors now open, our dedicated Family First team is building on the momentum of the last few months. We are thrilled to offer a wide variety of programs for the fall and can't wait to see you soon!

This state-of-the-art facility is a partnership between former Seattle Seahawk Doug Baldwin Jr.'s Family First Community Center Foundation, the City of Renton, the Renton School District, and HealthPoint, a network of non-profit community-based health centers.

First conceptualized in 2014, the Family First Community Center started as a vision from former Seahawk Doug Baldwin, Jr. The conversations that followed with Tom Trompeter, former CEO of HealthPoint, and former Renton mayor Denis Law in 2015 brought structure to the initial concept. About the opening, Baldwin says, "When I first came here in 2011, the community accepted me as one of their own. I got to know a group of teens that did homework at a restaurant called Mama's Teriyaki, and that's when my initial vision for the Family First Community Center started. Growing up in Florida, my local community center added so much to my childhood, and there wasn't a resource like that here. With my experience in sports, I realized to win a championship, it takes a lot of partners. From vision to execution this has been a journey of seven years, and I'm so proud of all our partners for the work it took to get here. The Family First Community Center provides a space where people can feel safe, welcomed, and seen. My hope is that it provides a model for other cities, not only across the state but around the country," said Baldwin.

Family First Community Center from Osmosis Media on Vimeo.
The first of its kind in Washington State, the Family First Community Center will feature a health clinic with medical, dental, and behavioral health services along with recreation, education, and wellness programming.
Programming will include after-school programs and classes, youth and adult sports, group exercise, personal training, financial literacy classes, health education, cooking, nutrition classes, and activities for youth, adults, families, and seniors. Renton Public Schools will offer STEM classes to Cascade Elementary School students at the facility, and HealthPoint will provide medical, behavioral health, and dental care to area residents.
The combination of services in one location is designed to take a holistic approach to an individual's wellness and provide support for people of all ages and backgrounds.
Nine schools are within a three-mile radius of the community center site, with a 10th school opening this fall. With 4,300 students in close proximity, FFCC is designed to meet their needs as a recreational and wellness hub. In total, 56% of these students qualify for free or reduced lunch, and 24% are English Language learners. The center's mission is to empower individuals and families to lead healthy, successful, and fulfilling lives through access to education, recreation, and support services.
READ THE FULL PRESS RELEASE
See Previous Member Spotlights