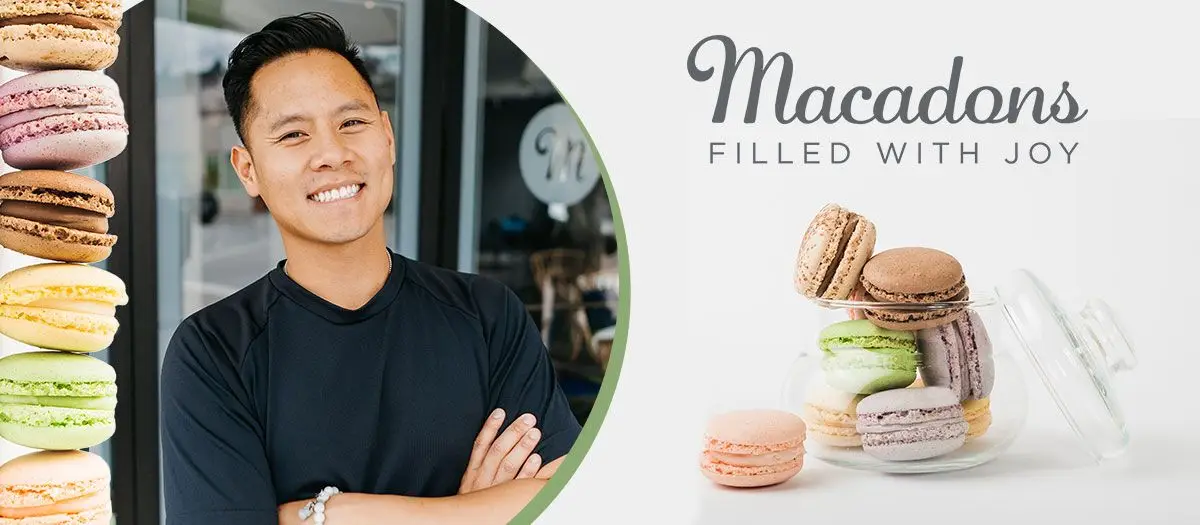 Macadons Filled with Joy: Now in Renton
by Chamber Staff on
March 1, 2023
Macadons
is one of Downtown Renton's newest cafes to check out. Macadons opened in Renton in September 2022 and is located on 3rd and Wells, right under Erasmus the Dragon. Macadons started in 2014 in White Center as a side business and grew organically over the years until cofounder, Michael Huynh, decided to leave his full-time job of 6 years to take on the business full-time in 2017. Since then, Macadons has grown from a small shop with no employees to a large-scale operation that makes over 10,000 macarons a week and employs 24 hardworking individuals. As of this publishing, Macadons has its flagship store in Downtown Renton, a commercial kitchen in White Center, and a kiosk at the Waterfront Market at Ruston. Macadons is partnered with dozens of local small businesses but you can also find their treats at The Space Needle, Chihuly, and Climate Pledge Arena. Come to the Renton store to pick up some mini macarons and ice cream macarons, or fill out their online order form to get some custom-printed macarons where you can print any image right on top of the macaron itself!
After a recent brand remodel, Macadons now focuses on helping local small businesses by carrying their products in their shop. You can get a wonderful cup of coffee with beans roasted from Olympia Coffee or a pot of freshly brewed tea with high-quality loose-leaf teas curated by the owner of Miro Tea in Ballard.
Follow their social media
to stay updated with all of the popups that they host with up-and-coming entrepreneurs starting from scratch and trying to make their dreams come true.
Macadons is currently open Tuesday to Sunday from 11am to 8pm and stays open until 10pm on Fridays and Saturdays. Come stop by to do some work or relax on your own, or bring in a friend or a group and hang out and get to know each other a little better! It's the perfect opportunity to come in after work or after dinner to wind down after a long day.
See Previous Member Spotlights