In partnership with the City of Renton, Renton Chamber of Commerce, and Handshake,
Renton Technical College Career Services Center is proud to host the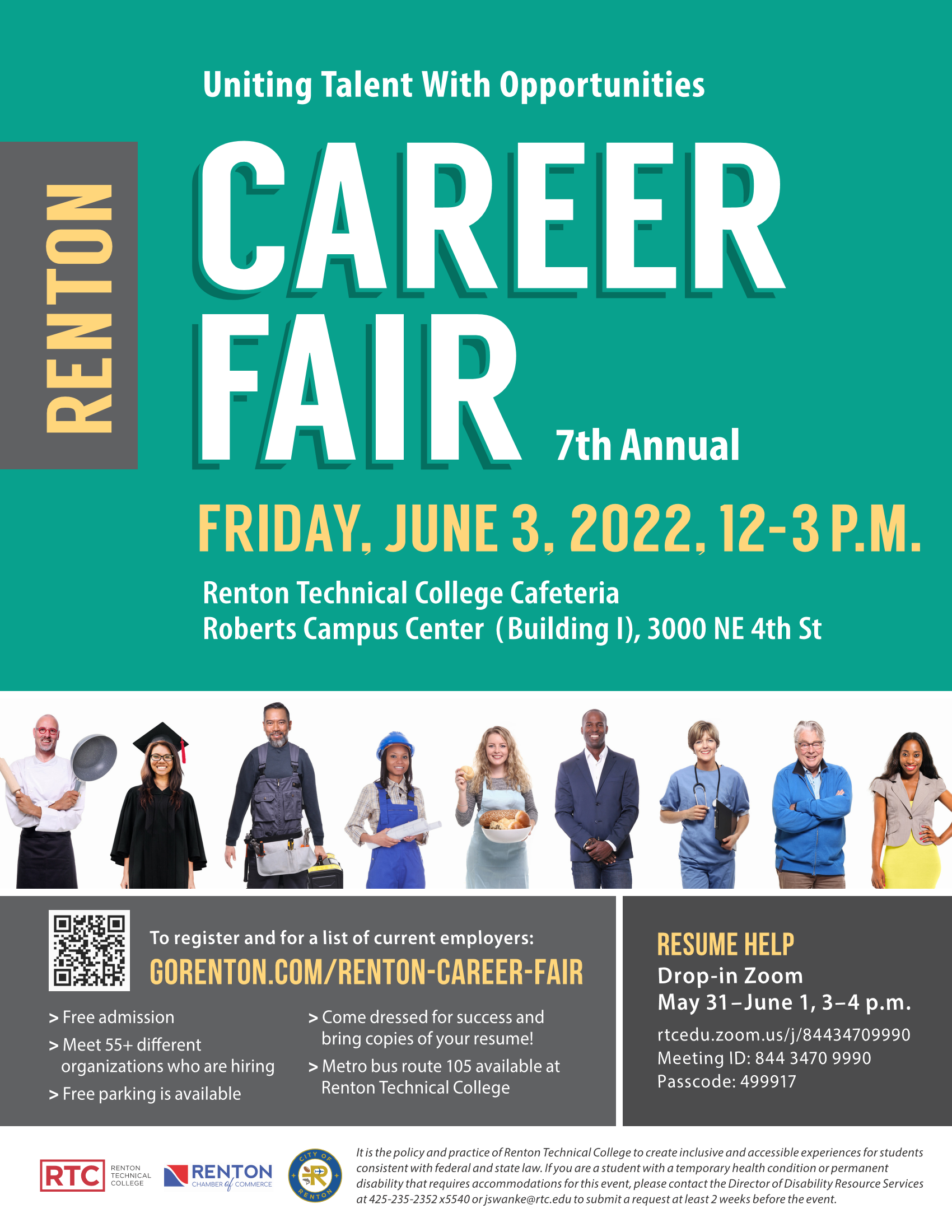 Click on the picture for a printable PDF flyer
This career fair will bring together students, alumni, and community members to meet 70+ employers from a variety of industries, including business, childcare, construction, healthcare, manufacturing, and transportation. Employers will be looking to recruit and interview, and some are hiring immediately!
RTC Career Services offers fair preparation sessions to job seekers who need assistance with preparing for the fair or preparing for employment, including writing a resume and cover letter, searching for jobs, and practicing interviewing skills. The detailed meeting information can be found below.


It is the policy and practice of Renton Technical College to create inclusive and accessible experiences for students consistent with federal and state law. If you are a student with a temporary health condition or permanent disability that requires accommodations for this event, please contact the Director of Disability Resource Services at (425) 235-2352 x5540 or jswanke@rtc.edu to submit a request at least 2 weeks before the event.
---
Fair Preparation Zoom Sessions

Participate in one of four virtual open sessions with representatives from the Renton Technical College for free resume review.
Please have your draft resume ready as a starting point.
Career Fair Resume Review
Open Drop in Sessions
3:00 PM - 4:00 PM
May 31, 2022
June 1, 2022
Join the Zoom sessions at:
Meeting ID: 844 3470 9990
Passcode: 499917
---
Attending Organizations
---
Current job opportunities from Renton Chamber of Commerce Members: